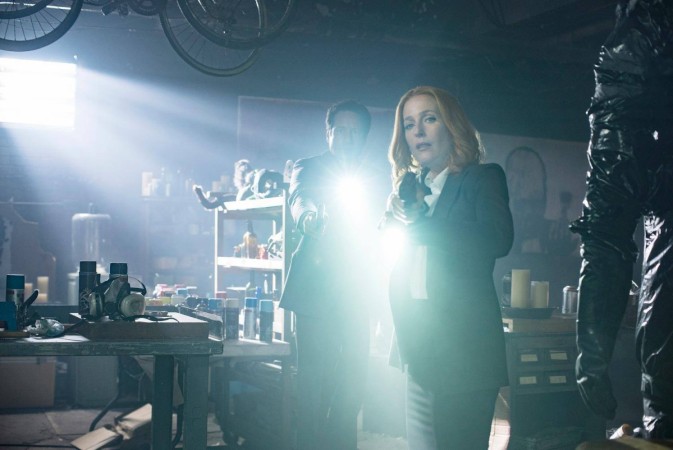 "The X-Files" has had many gruesome, nightmare-evoking episodes over the years, but Season 4 Episode 2 of the sci-fi show titled "Home" was so ghastly that it was banned from being aired on TV. However, it was a great hit among the fans of the show, and when they heard that the upcoming Season 10 Episode 4 is titled "Home Again", heated discussions about the return of the Peacocks began all over internet.
"Home" was set in Pennsylvania, and began with the birth of a deformed baby, who is buried alive by three men who had similar deformities. However, the corpse of the baby is found and Mulder (David Duchovny) and Scully (Gillian Anderson) are investigating the death. The case leads them to the Peacock family, where only three brothers live.
The evidences led Mulder and Scully to believe that the men may have kidnapped and raped a woman in their house, which has no electricity, running water or heat. On searching the residence, Mulder and Scully find a quadruple amputee woman hidden under a bed. She is identified as Mrs Peacock, and viewers learn that she is the mother of the three men and has been breeding with her sons for years.
Also Read: Crowley locked in hell, 'Casifer' finds a way to defeat Darkness in "Supernatural"?
The episode had ended with the two young brothers dying and the eldest one escaping with Mrs Peacock. Considering the episode had an open ending, it was logical for the fans to assume that the inbreeding family from Season 4 may be returning in "Home Again".
However, from the summary of Season 10 Episode 4, or its promo, it does not look like the episode has any ties to "Home". While the Peacock brothers were deformed, but in no way supernaturally gifted or cursed, the "monster" of "Home Alone" sore akin to a ghoul or zombie.
Here is the official summary for "The X-Files" Season 10 Episode 4, which will be aired at 8 pm (EST) on Monday, 8 February:
Mulder and Scully are sent to investigate the murder of a city official, which it seems no human could have committed. Meanwhile, Scully deals with a personal tragedy, which brings up many old feelings about the child she gave away for adoption.