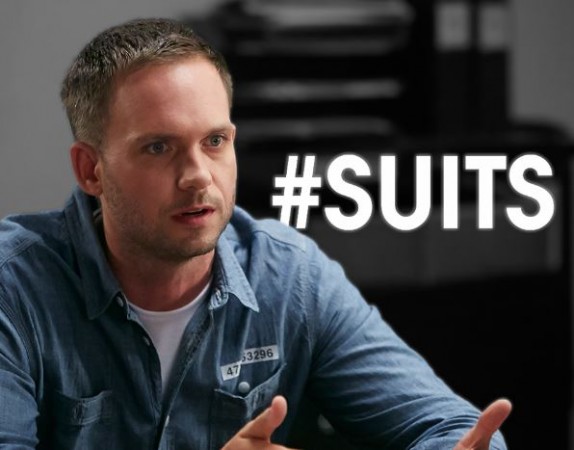 The story so far on "Suits" Season 6 has convinced us that Mike (Patrick J Adams) is getting out of prison and soon. After brainstorming and improvising plans to get Mike out over last few episodes, Harvey (Gabriel Macht) and Cahill (Neal McDonough) have finally decided to uninhibitedly join forces and take Sutter (Alan Rosenberg) down for the greater good.
In the previous episode, we saw Harvey and Cahill breaking the law by colluding with the opposing counsel, which is each other. Each of them have their own reasons for going to this extreme measure, but none of this would be useful if Mike is unable to get Kevin (Erik Palladino) to turn on Sutter and by default, his wife.
As fans learned in the previously aired "Spain," the only reason Kevin wouldn't confess to his father-in-law Sutter's crimes in court, is his wife. She had known about her father's inside tradings and if Sutter is arrested, she will be sent away as well. He had revealed all this to Mike in Season 6 episode 6, but had asked the fraudulent lawyer to also give his word that this secret would not get out.
Also Read: "Pitch Perfect 3" star Brittany Snow joins "Crazy Ex-girlfriend" cast
Mike obviously feels guilty about having to manipulate his only friend in prison, but he needs to get Kevin to turn against Sutter on the stand soon or spend the next two years in prison. Mike and Harvey is always the winning team and sooner or later they will find a way to defeat Sutter. Mike will convince him soon, but Kevin is surely not going to make it easy for him.
In the trailer for Season 6 episode 7 of "Suits" Kevin tells Mike, "Take your Goddamn good intentions and go to hell."
Don't forget to watch "Suits" Season 6 episode 7 at 9 p.m. (EST) on Wednesday, Aug. 24. You can also live-stream "Shake the trees" via USA TV Live and Hulu.