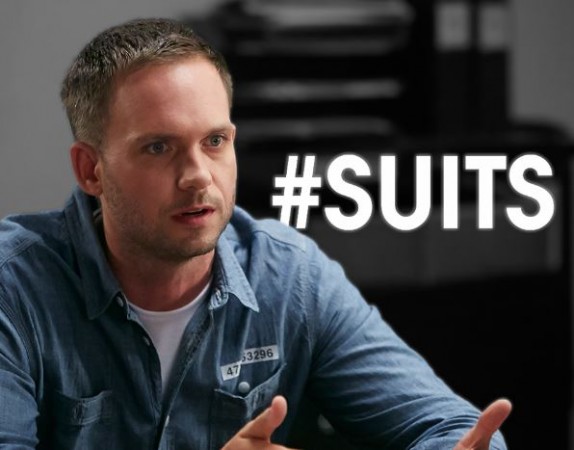 Mike's (Patrick J Adams) plan of getting information on Kevin (Erik Palladino) so as to get out of prison earlier is in motion and in the upcoming Season 6 episode 6 of "Suits," he will be seen moving forcefully ahead with the plans. However, something from his past is expected to crop up and cause some hindrances in this plan in "Spain."
Season 6 episode of "Suits" will also see Harvey (Gabriel Macht) and Cahill (Neal McDonough) facing off against each other in court. As confirmed in the previous episode, they are putting on a show for Sutter (Alan Rosenberg), because they have learned that Kevin is his son-in-law.
As Mike tries to pry the details of what exactly Kevin is protecting his wife and kids from, Harvey and Cahill will continue to play this game for the outside world. Although Mike will get out of prison sooner rather than later, there will be quite a few hoops that he will have to jump through to guarantee his freedom.
Also Read: Elektra gets new identity in "Daredevil" Season 3?
Meanwhile, Jessica (Gina Torres) and Rachel (Meghan Markle) will be seen working on the pro-bono case together. Despite his emotional outburst last episode, it looks like the death row inmate Rachel has agreed to save as part of the innocence project may not be as innocent as she had hoped. In the trailer, Rachel is seen demanding why he lied to her regarding the details of what happened on the night of the crime.
The lighter moments in the episode, that promises to be predominantly dramatic, will be part of Louis' (Rick Hoffman) storyline, wherein he will try to woo his architect Tara (Carly Pope). The official synopsis of the episode reads:
Harvey defends Sutter from Cahill; Mike's past threatens to derail his mission; Rachel and Jessica seek evidence to re-open a case; Louis woos Tara.
Watch Season 6 episode 6 of "Suits" at 9 p.m. (EST) on Wednesday, Aug. 17. You can also live-stream "Spain" Season 6 episode 5 via USA TV Live and Hulu.