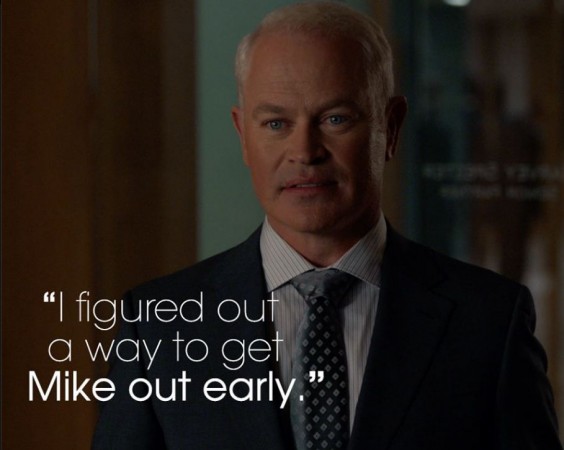 Mike (Patrick J Adams) has been in prison for a while now and even with all the drama in "Suits" Season 6, fans miss seeing him in action. Last week's Season 6 episode 3 has opened a window of opportunity for Mike, but nothing in "Suits" comes that easy.
Cahill (Neal McDonough) had revealed towards the end of the episode that he has found a way to get Mike ahead of his time. However, to get his sentence cut short he will have to convince his roommate Kevin (Erik Palladino) to turn on his family and provide information about them to the court. If he is unable to do that Mike has to get some information out of Kevin and relate it to Cahill.
Knowing Mike, he will never do anything to hurt people he considers his friends, which is exactly why he is in prison in the first place. However, he is running out of time with Frank (Paul Schulze), who is looking for the perfect opportunity to strike Mike dead. Meanwhile, Cahill has told Harvey (Gabriel Macht) that Mike only has 24 hours to make a deal with him.
Also Read: Who is Tom Felton in "The Flash" — Black Racer, Dr Alchemy or Cobalt Blue?
In the promo for the upcoming Season 6 episode 4, it looks like Mike has gotten poisoned. However, even Frank looks surprised with Mike falling unconscious in the yard, so it could very well be part of a master plan that Harvey and Mike have hatched to save Mike and protect Kevin at the same time. Mike is also seen telling Donna (Sarah Rafferty), "If someone finds out I may never get back to Rachel (Meghan Markle)," which further reinstates this theory.
Don't forget to watch Season 6 episode 4 of "Suits" at 9 p.m. (EST) on Wednesday, Aug. 3. You can also live-stream "Turn" via USA TV Live and Hulu.