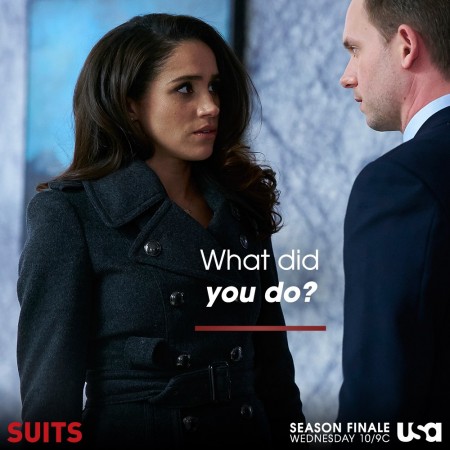 Season 5 of "Suits", which managed to take the viewers to the edge of their chairs and kept them there for at least the last five episodes, is coming to a close Wednesday, March 2. The finale episode, titled "25th Hour", will reveal Mike's (Patrick J Adams) fate along with that of Pearson Specter Litt.
In the previously aired "Tick Tock", fans saw Mike going to Gibbs (Leslie Hope) and telling her he is ready to accept her offer. He had taken this decision after a client said if he was found guilty his associates would go to jail with him, whereas if he sold his friends out, at least he would be safe.
Although Mike is too smart to accept Gibbs' original offer, or anything else she offers, Harvey (Gabriel Macht) is definitely afraid of what Mike will do. Gibbs had initially told Mike she wanted him to rat on any of the named associates of Pearson Specter Litt and go to jail for a couple of years, and they could settle. However, Mike had definitively refused the offer and will probably refuse it again.
Also Read: Why did Amanda vote Richard out as CEO in "Silicon Valley"
It is safe to assume Mike has a counter-offer for Gibbs, which most probably will land him in jail, but somehow put at least Harvey in a safer spot. However, he may not even have to go through with the settlement, considering the moving closing statement he gave at the trial. Most of the jurors were convinced Mike was in fact a lawyer, and certainly a good one at that.
Meanwhile, Season 6 has been confirmed for the USA Network series, and is expected to release in the summer of 2016. A specific release date has not been announced, but Season 6 Episode 1 can be expected to premiere in June.
Watch Season 5 Episode 16 of "Suits" at 10 p.m. (EST) Wednesday, March 2, 2016. You can also live-stream "25th Hour" via USA TV Live and Hulu.