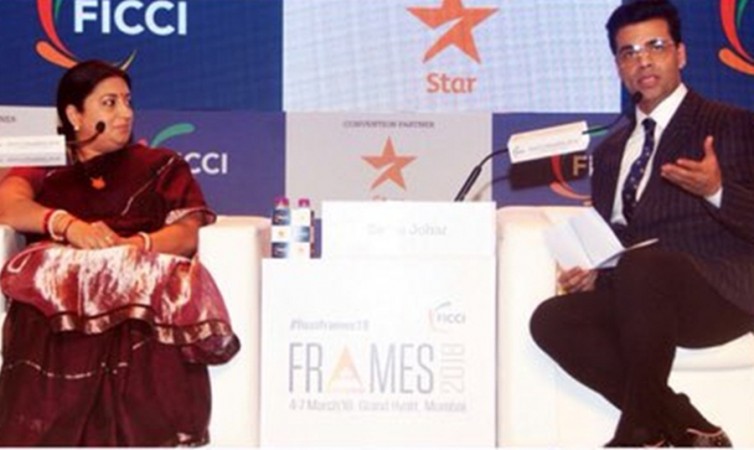 Smriti Irani, Union Minister for Information and Broadcasting, said filmmakers create controversies to stay in the limelight when they know they haven't made a good film for the audience. The former TV star was speaking at the inaugural ceremony of FICCI Frames 2018 in Mumbai.
"My issue is this. Now that you recognise me as an insider, honestly put your hand to your heart and tell me, how many of us manufacture that outrage because we don't have a film which is that good but we know we will get the eyeballs," Smriti Irani said during the Q&A session. Her befitting reply was a response to filmmaker Karan Johar's comment that the film industry always becomes a soft target.
She added, "We are all in the business of it, it's the best-kept secret which is just out there. Nobody wants to talk about it." After which, KJo, who was left completely speechless, replied, "Okay, we won't get into that!" To that she quipped, "Of course you won't."
Some time back, director Sanjay Leela Bhansali's period drama Padmaavat was caught in a row for allegedly hurting the sentiments of the Rajput community. A fringe group by the name Rajput Karni Sena had created havoc and demanded a ban on the film.
But when Karan Johar asked Irani what changes she feels should be made in the industry from within as there have been many times that the film industry takes their woes to the government, she replied, "We need to stop saying that we have woes because we are not becharas."
Interacted with members of the film industry at #FICCIFrames2018 on the potential of media and entertainment industry in the country which stands today valued at Rs. 1.3 lakh crores employing close to 3.6 million citizens. pic.twitter.com/HAD7UvB6wz

— Smriti Z Irani (@smritiirani) March 4, 2018
"We have an economic contribution of 1,30,000 crore in this economy and we need to be very very proud about it. How many filmmakers talk about their domestic market potential and numbers every given opportunity. We are not only about naach gana and somebody crying or some romantic song- we bring this much money and food to the table of 3.6 million Indians- that's our contribution," she added.
Watch the video here: