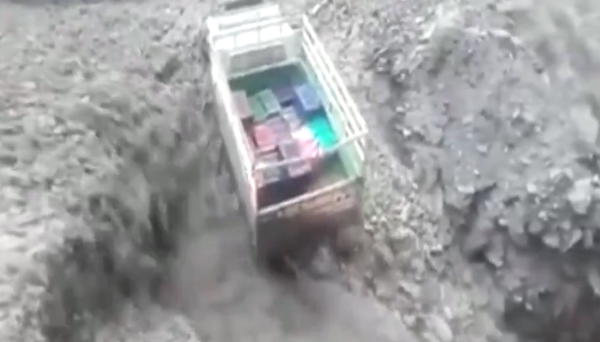 It's a tough video to watch. A truck falls into a deep gorge in Himachal Pradesh's Kullu on Thursday, February 21. Luckily, there was no one inside it.
The incident occurred as slush caused due to heavy rains quickly eroded the ground under the truck.
In this particular incident, the vehicle got stuck due to massive rains. And then, it fell slowly and got washed away.
Earlier, another similar incident was reported in Himachal Pradesh's Manali when a tourist bus was swept away. Similarly, another such incident was reported when a truck was swept away after river water entered the parking premises in Manali.
No loss of life was reported in both of these accidents.
Torrential rains have once again thrown life out of gear in Kullu. Traffic remained suspended following the flood.
Also, due to heavy snow and rain, around 250 soldiers of the Army and paramilitary forces are searching for five jawans buried in snow after an avalanche in Himachal Pradesh's Kinnaur, in which one army man was killed on Wednesday.
The soldiers were hit by a sliding glacier at the Namgya region of Kinnaur, around 11 am on Wednesday morning. Four inches of fresh snow have accumulated on the slopes.