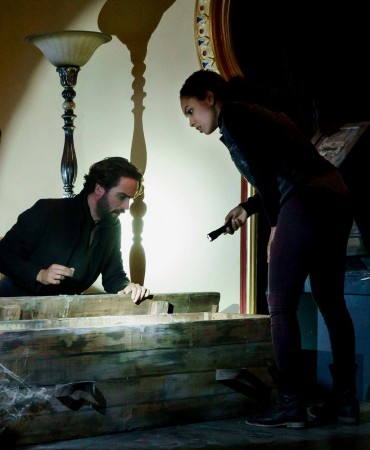 A beloved monster is returning to "Sleepy Hollow" in Season 3 Episode 11 on Friday, Feb. 19, but there seems to be something different about him. As Abbie (Nicole Beharie) and Ichabod (Tom Mison) try to uncover the reason behind the Kindred's evilness, fans will get to see a Frankenstein's monster sort of scenario unfolding in "Sleepy Hollow."
As fans would remember, the Kindred is a very powerful creature created with the body parts of dead soldiers from the Revolutionary War, and the head of the Horseman of Death. Although he is extremely powerful, even fighting both the Horsemen of Death and War at the same time, he is extremely loyal to Abbie. He was last seen in Season 2, where he disappeared on a horse after his fight with Death and War.
In "Kindred Spirits," he seems to be turning evil, and is responsible for three double homicides. It is understood that the Kindred is not killing because he is evil, but because he wants a wife, which is eerily similar to the story of Frankenstein's monster.
Also Read: Fish Mooney 'frozen' in 'Gotham' Season 2 Episode 12
In the promo of Season 3 Episode 11, Kindred is seen using his Halbred on various women. He is possibly trying to sew body parts of the women he killed and make a wife for himself.
Hopefully, Ichabod and Abbie will stop him before he succeeds in his mission, and either bring him back to their side or trap him back in his coffin. As fans of the show would remember, at the end of the Revolutionary War, Benjamin Franklin had buried Kindred's body in the Old Munition Tunnels underneath Sleepy Hollow in a hidden coffin.
The coffin itself was protected by an electrical trap that would immediate electrocute anyone who touched it. However, if the trap is activated, the coffin would slide down from a hidden shelf. The Kindred could then be summed by an incantation that roughly translates to:
"That is not dead can eternal lie. And with strange eons even Death may die... ...And with the words of the old ones, I summon thee, soul of my kith, body of my Kindred!"
Watch Season 3 Episode 11 of "Sleepy Hollow" at 8 p.m. (EST) on Fox. You can also live stream "Kindred Spirits" via Fox Now.