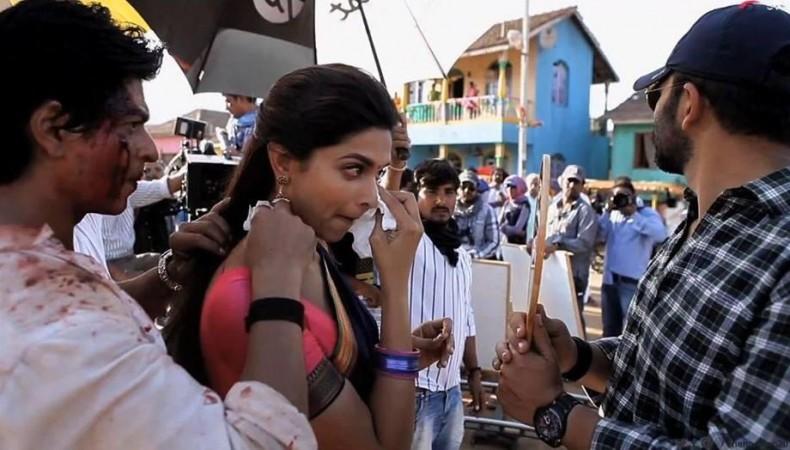 Director Rohit Shetty has finally wrapped up the much-awaited action, comedy and romantic film, "Chennai Express".
After Deepika Padukone, the lead actress of the film, it was Shetty's last day on "Chenni Express" set which was filled with lots of fun and action in Wai.
Deepika posted a video on her twitter account along with a post that reads: "And now my Directors last day on Chennai Express set...Rohit Shetty Shtyle! Yej-Joy!"
The lead actor of the film, Shah Rukh Khan also posted the same video with a post which reads: "deepika's spills sets secrets. And now my Directors last day on Chennai Express set...Rohit Shetty Shtyle! Yej-Joy!"
The one-minute 57-seconds video starts with Rohit Shetty's voiceover and two cars exploding. The video shows Rhit Shetty's style gravity-defying action sequences with cars exploding, bike stunts, fight scenes, funny and bone tickling comedy scenes.
In one sequence, Shah Rukh and Rohit Shetty are seen working as a spot boy for Deepika. While Shetty is seen holding the mirror, SRK is seen setting Deepika's hair.
At one-minute four-second, Deepika is seen hitting Shetty's head with a coconut. At the end, Shetty's shows the artistic side of him by colouring a picture in a book.
Video of Deepika's last day on the set of "Chennai Express" had hit the net earlier. She was seen punching SRK and hitting Shetty's head with a bottle.
The three - SRK, Deepika and Rohit - and the whole cast and crew of the film seemed to have had a great time while shooting the film. The videos have now created curiosity among the movie buffs.
The makers of the film are using different strategy of promoting their film by releasing the videos. Now only, Shah Rukh's last day video remains to be revealed.
Meanwhile, the trailer of the film is set to release on 13 June and the flick is set to hit the screens on 8 August (EID).
Check out the videos here: