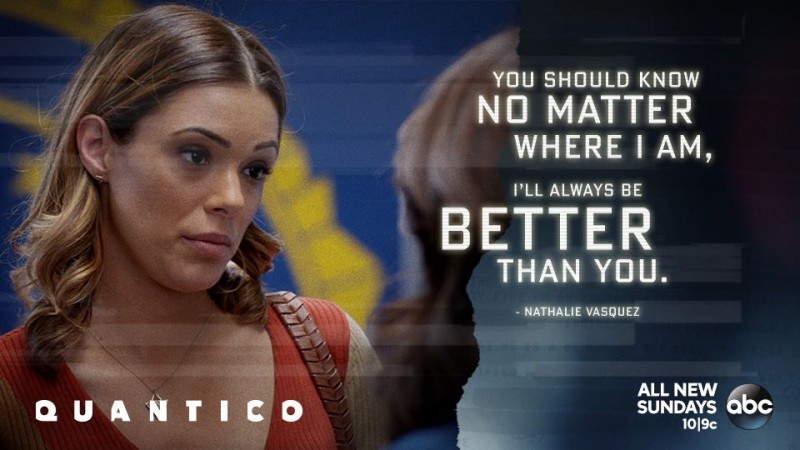 ABC's "Quantico" is getting more and more gripping by the minute and last week's Season 1 episode 13 proved once and for all that Alex (Priyanka Chopra) was right all along. Vasquez (Anabelle Acosta) is dead as of "Clear" and more of her friends are in danger, which makes Alex seek help from the one person she believes is completely innocent, Simon (Tate Ellington).
However, many fans feel that Vasquez is not really dead and that she was in on the whole thing. It does seem fishy that Vasquez appears with a bomb strapped around her out of nowhere and has no recollection of how that happened. It is also pretty suspicious that she was totally calm even when she had an explosive strapped around her. Even Alex had pointed it out, but Vasquez rubbished it with her usual statement "I am better than you."
Even if she was pretending to be calm, for someone who speaks about her daughter every so often, she did not even seem keen to say one final goodbye to her over the phone, or at least hear her voice for the last time. And finally, Alex's phone loosing signal at the right time, her stepping out of the abandoned building and Vasquez dramatically screaming, "Alex run," when the bomb explodes is all to convenient to be believable.
Also Read: Black Panther joins Team Iron Man to avenge father T'Chakka's death?
Although there are still no theories proving her involvement with Ryan's (Jake McLaughlin) ex-wife Hannah (Eliza Couple), there is some suspicious connection between the two. Considering both of them were at the New Year's party in Caleb's (Grahan Rogers) house, they definitely could have met there and, of course, there is the common link that is Ryan.
Hannah had taken Alex's phone to just tell her that she didn't have clearance for off-network access and conveniently left a finger print for her. She also seemed nonchalant about the bomb threat and the fact that Ryan went back inside the building despite the threat. Considering how caring she is of Ryan, her actions don't add up.
Then again, "Quantico" has a habit of dangling new leads in front of their fans and snatching them away as soon as they think they have a solid theory. Watch Season 1 episode 14 of "Quantico" at 10 p.m. (EST) Sunday, March 20, to see how the story pans out. You can also live-stream "Answer" via ABC Go!