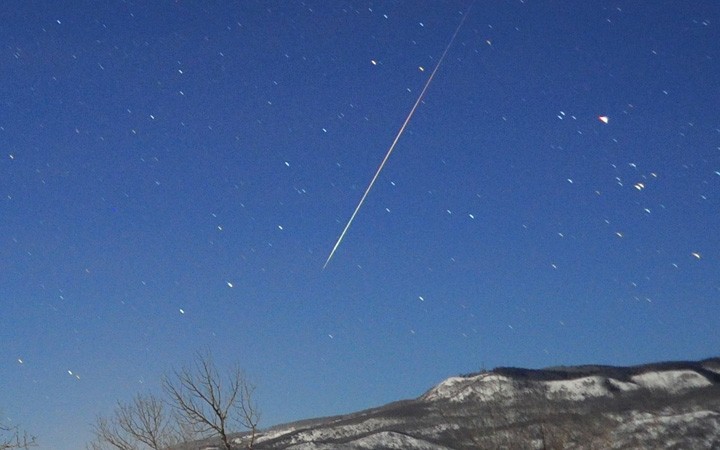 The Quadrantids meteor shower 2015 or the first shooting stars of the new year will be prominent this weekend and lighten up the north to north-eastern skies in the northern hemisphere on Saturday and Sunday.
According to predictions by Astronomers, the meteor shower will mostly be visible on Saturday after 9pm and early Sunday morning, the Telegraph notes.
(Scroll Down for information and details on where to watch the shower and live stream link)
The Quadrantids, which usually peak during early-January each year, are considered to be one of the best annual meteor showers. This year, the shooting stars will peak during the night and early morning hours of 3 and 4 January. According to NASA forecast, meteor rates will increase after midnight and peak between 3 am and dawn.
Unfortunately, a bright and waxing moon will wash out all the brightest meteors this year although one will still be able to catch sight of this shower's fireballs.
"The Quadrantids are best viewed in the Northern Hemisphere (this shower can also be seen at latitudes north of 51 degrees south) during the night and pre-dawn hours," a 'viewing tips' advisory from NASA read.
"To view the Quadrantids, find an area well away from city or street lights. Come prepared with a sleeping bag, blanket or lawn chair. Lie flat on your back with your feet facing northeast and look up, taking in as much of the sky as possible."
According to International meteor Organisation's prediction, the radiant point, the areas where the meteors appear to originate, will likely be the highest in the sky just before dawn on Sunday. That will be the best time for sky-gazers in Eastern Europe and northwestern Asia to catch a glimpse of the spectacular and celestial happening.
People in the central and southwestern US are promised a good view although stargazers in the eastern half of the country might have troubles due to heavy cloud cover, the Washington Post has reported.
The event will reportedly be very brief and intense and can be easily missed. Therefore, astronomers are advising people that they must stand in a position where the moonlight is blocked by a building or a tree.
However, NASA estimates the meteor shower will with feature some 80 meteors an hour during its peak time. People living in northern latitudes should look towards 'kite formation' in the constellation Bootes before the start of the shower's peak time.
Those who are in eastern part of Asia will most probably get the best views as the showers peak there before dawn on 4 January.
The meteor showers are typically named after the constellations where they originate. This one originates from the Quadrans Muralis constellation, first identified by the French astronomer Jerome Lalande in 1795.
The Slooh Community Observatory will stream the event live online on its official video webcast site.