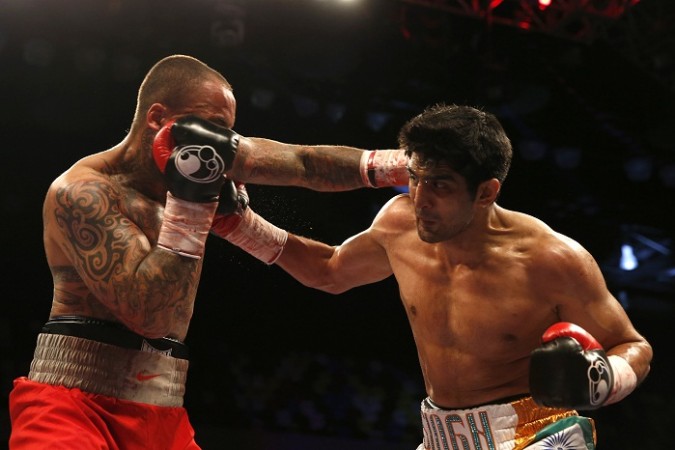 There is a common trend which has transpired in all the five previous professional bouts that Vijender Singh has fought so far in his career. Leading up to the fight, Vijender's opponents have talked about defeating the Bhiwani boxer, some have even threatened to thrash him. But, in the end all of Vijender's opponents have failed to walk the walk, which in turn has seen the 2008 Beijing Olympic bronze medallist go undefeated so far in his pro career.
Click here to read how Vijender defeated Soldra
Vijender is preparing for the sixth fight of his professional career, against Andrzej Soldra, at Macron Stadium Premier Suite in Bolton on Friday. The Polish boxer, likewise, has also talked about handing Vijender his first defeat, and the Indian will once again be keen to do all his talking inside the boxing ring.
The Indian boxer has shown his class with strong power punches, which included vicious jabs, to knockout his opponent. Not a single fight has gone the full distance, even though he has fought some experienced ones like Samet Hyuseinov.
Vijender's fight against Soldra will be his first eight-round fight, as all his bouts previously have been a six-round affair.
As far as experience is concerned, Soldra is superior as he has been involved in 16 fights, winning 12 and losing three. One bout ended in a draw. Despite the difference in experience, Vijender is confident of scripting his sixth pro win.
"I am fully up for my sixth fight. This will be my first eight round fight and I have worked a lot on endurance. I have seen videos of Soldra. He is a good opponent but I am preparing very hard to give him a tough time in the ring. He is very experienced though and with 16 fights and 81 rounds he has got the advantage over me in that department but I will stop him," Press Trust of India quoted Vijender as saying.
Vijender might have just fought five times in the pro circuit, but he has already showed some great signs of maturity. He does not rush his shots, and waits for the perfect time to unleash his punches to floor his opponent.
Soldra has knocked out five boxers in the past, but he might get a dose of that same medicine if he is not careful with his defence, as Vijender possesses a strong right hand. But the Polish boxer is not perturbed by Vijender and his record so far.
Soldra seems to be another confident boxer, as the Polish believes Vijender will be under a lot of trouble once he connects with his strong punches.
"Friday the 13th is going to be a horror show for India's golden boy Vijender. It is about time his lucky streak came to an end and I am going to be the man who delivers the knockout blow! He has had it easy up until now, us Polish are a different breed, and he is going to be in for a shock on Friday," Soldra said.
"I am on a different level to all of his previous opponents. I have a solid winning record and I am not familiar with losing. These bums he has been fighting have been falling over but I am coming to England to fight! When I start landing on him he is going to be in a whole world of trouble."
This fight against Soldra is Vijender's last fight before his major homecoming, when he fights for the WBO Asia title in June. A victory over Soldra will only make him a much more confident boxer, heading in to the title fight in New Delhi.
Where to watch live
Vijender Singh vs Andrzej Soldra fight is expected to start at 6 p.m. BST (10:30 p.m. IST). Star Sports 2and Star Sports 2 HD will broadcast the Vijender Singh vs Andrzej Soldra fight live in India. Online streaming of the pro boxing bout is also available on starsports.com and Hotstar.
Viewers in the UK can watch Vijender Singh vs Andrzej Soldra bout on Box Nation . Online streaming is made available on Watch BoxNation.