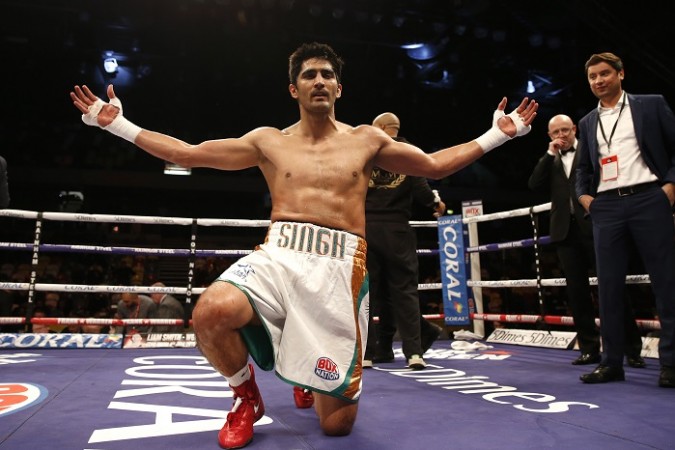 Vijender Singh continued his impressive performance inside the boxing ring, winning his sixth straight pro bout, defeating Andrzej Soldra in Bolton on Friday. The referee had to stop the bout in the third round, and declare Vijender victorious, after a dominant display by the Indian boxer.
None of Vijender's opponents so far have been able to take him the full distance in a professional bout. His performance against Soldra was another massive sign of his progress as a pro boxer.
In the lead-up to the fight, Soldra had talked about handing the 2008 Beijing Olympics bronze medallist his first pro defeat, but the Indian looked in sensational form right from the outset.
The first round witnessed Vijender and Soldra throw some jabs at one another, but, Vijender, who possesses a brilliant right hand and a brilliant technique, landed a perfect shot on Soldra, which floored the Polish boxer within the first three minutes of the bout.
This shot seems to have moved Soldra, who was on the receiving end of a number of punches in the second round as well. However, the Polish also threw few powerful shots at Vijender, who used his defensive skills to avoid those wild swings.
Vijender did not give any chance to his opponent in the third round as he came all guns blazing and landed some massive shots in Soldra's body and face. With some serious blows to the Polish boxer, it was just a matter of time for Vijender to emerge victorious, and the referee stopped the bout in the third round to keep his unbeaten streak alive.
Vijender will be keen to maintain this impressive streak of victories and come up with yet another clinical display as he prepares for the WBO Asia title fight in India in June.