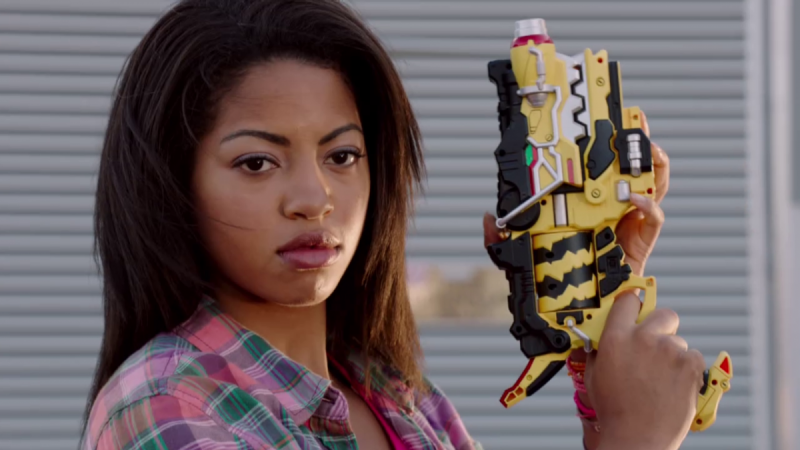 In the upcoming episode, titled "Besties 4Eva!," of "Power Rangers Dino Super Charge," after inviting her best friend to her place, Shelby finds out that her friend cannot mend her ways of taking what's not hers, and steals credit from her this time.
CLICK HERE to watch what happens when Pink Ranger discovers her friend's habit and what steps she will take to put an end to it.
According to the synopsis of the episode shared by Power Rangers Wikia, "Shelby's friend Erin tries to steal credit from the Pink Ranger and quickly finds trouble."
Shelby is angry with her friend and though she wants to punish her, she also wants to do it in a way that her friend will never dare to steal from anyone, ever.
Whether she will succeed in it or not, will be seen once the episode is aired. In the previous episode, titled "Riches and Rags," Ivan a.k.a. Gold Ranger found a 1,000-year-old suit of armour and unaware of its powers, used it as a training dummy.
Soon Heckyl created a new monster to steal the armour and spread greed among the Rangers so that they start fighting with each other and he can easily sneak into their headquarters.
When Ivan realised the true potential of the armour, he was terrified and regretted that he had treated it as mere training equipment. The armour had several supernatural powers and Gold Ranger, along with his fellow teammates, tried to retrieve it before Spell Digger.
Named with a combination of Spelbinder and Gold Digger, Spell Digger is the latest monster of Heckyl. Though Rangers defeated the monster, they found the task rather exhausting as unlike most monsters, Spell Digger attacked their mind instead of fighting the usual way.