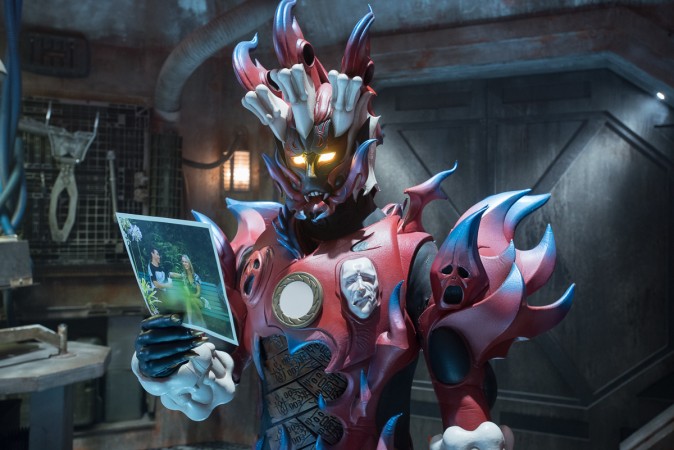 Kendall Morgan (portrayed by Claire Blackwelder), who dons the costume of Purple Ranger, will create a new Victory Charger to enhance her strength and abilities in the upcoming episode titled "Home Run Koda" of "Power Rangers Dino Super Charge."
CLICK HERE to watch how the new Victory Charger will help Purple Ranger boost her powers and whether the other Rangers will react positively to it or not.
The synopsis of the episode reads: "Kendall creates a new Victory Charger that requires the core 5 Energems. But when Riley becomes Koda's coach on the Amber Beach Earthquake baseball team, he has a hard time pulling himself away from the game to help the other Rangers."
In the previous episode titled "Forged Under Fire," Tyler a.k.a. Red Ranger (Brennan Mejia) looked forward to catching up with his dad after not seeing him for the past 10 years.
When Tyler's Energem cracked, he was forced to mend it by placing it in hot lava, and proved to his dad he was not a kid anymore. Meanwhile, Singe (Mark Mitchinson) begins his next plot that involved using Hunter for bait.
The episode started with Tyler and James suited up as Rangers, except for their helmets, planning their next adventures that included journeying to Mount Whitney and trying skydiving. They left in their Dino Cycles to pursue the adventures.
However, their adventure was disrupted when Singe got the possession of the Zotak rings that had the power to neutralise the Energems. All the Rangers assembled and after a strenuous fight, they eventually succeeded in defeating Singe.
At the end of the episode, Tyler spoke about his experience with death to the other Rangers. Afterwards, James stated that he had been talking with Keeper and said that his geology skills should be put to better use in finding the silver Energem.