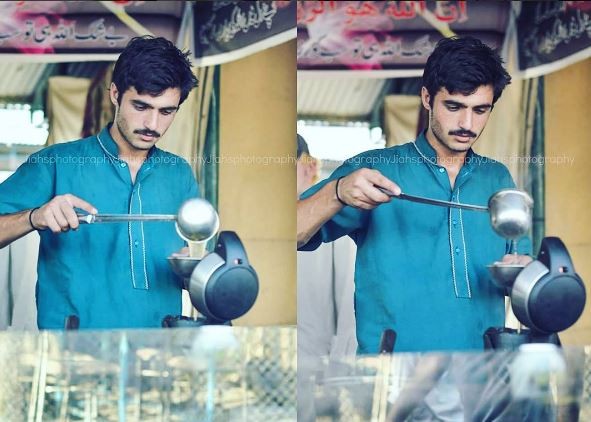 The blue-eyed chaiwala in Pakistan, who became an internet sensation overnight because of his good looks, is now a star. After receiving modelling offers, chaiwala Arshad Khan has starred in a music video dedicated to him.
The music video, directed by Usmais Khan and produced by a Pakistani band Lil Mafia Mundeer, is titled Chaiwala - feat. Arshad Khan. The song is about Arshad's journey to fame and how his good looks and blue eyes made him popular among girls.
The two-minute 29-second video begins in a newsroom, where the anchor is seen rapping about and introducing the chaiwala and the rappers. The ticker in the news video reads, "chaiwala nominated for the hottest Asian man." The rappers are also seen imitating Shah Rukh Khan's signature pose in the video.
The video, which was uploaded on YouTube on November 28, has been viewed more than 137,946 times and has garnered more than 200 comments. The comments are mostly negative and some users even compared the rappers to the singer Tahir Shah of Eye To Eye fame.
"yar kia bakwas insulting him chai wala," one YouTube user said.
"Go watch EXO monster y'all I swear its so much better than this," another commented.
"two idiots just insulting that famous dude for sake of their own publicity... yes he's chaiwala...but its not necessary to call him chaiwala chaiwala every time," another user said.
Khan shot to fame after his photos in blue shirt went viral. The photo, clicked at Itwar Bazaar in Islamabad, Pakistan, went viral after the photographer Javeria (Jiah Ali) shared it on her Instagram page.
"I took his picture during a photowalk I attended a few months back but shared the post recently on Instagram and someone shared it on other social media platform after which it went viral. I keep sharing different pictures on Instagram, but I guess the ladies really liked him," Jiah told IBTimes India in October.
Watch the video below: