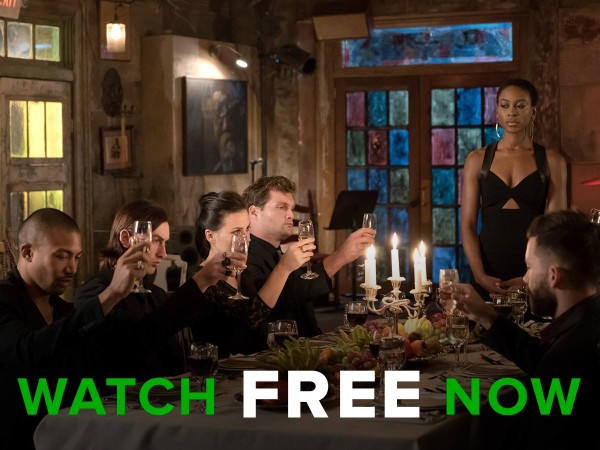 Aurora's (Rebecca Breeds) plan to ruin Klaus (Joseph Morgan) and Cami's (Leah Pipes) relationship has been going according to plan, as fans saw in "The Originals" Season 3 Episode 11 "Wild at Heart". In the upcoming Season 3 Episode 12, titled "Dead Angels", Klaus will have to try and stop her from making any mistakes that could get her hurt, while his brother Elijah (Daniel Gillies) shows The Strix he is to take what has always been his.
In the promo for "Dead Angels", Elijah is seen crashing on The Strix's meeting called by Aya (Tracy Ifeachor) and reminds everyone he is the sire of everyone present there. He is the creator and maker of the vampires assembled in the room, and will get to decide who the rightful leader of the group is.
He finishes his announcement with the declaration that with Tristan (Oliver Ackland) gone, he would be the new leader. Aya is visibly angry, and when Elijah asks the ancient vampires if anyone objects to his leadership, she says she does, and demands a dual.
Also Read: Clarke worries for Lexa in "The 100" Season 3 Episode 4
Aya knows one of her witches had made a discovery about Elijah that shook him up. She also guesses it to be a weapon that can kill the Originals, but she does not know what it is, and because Elijah killed the witch, there is no way for her to know.
Aya does have Davina (Dianelle Campbell) in her back pocket, and seeks her assistance to figure out what the weapon is.
In the previous episode, fans saw the weapon was actually a small wooden horse made of White Oak — the only thing that can kill an Original Vampire. Unfortunately, the horse is with Camille, who has been acting insane since she became a vampire. Camille demands that Klaus return her family legacy before she returns the one object that can get him killed.
Klaus will deal with Camille in "Dead Angels", but if she gets captured by The Strix before that, she is going to be in great trouble. Davina is also capable of choosing the wrong side again and ruining everything for herself and the Michaelsons.
If she were to side with Elijah and not give Aya the information she wants, Elijah can kill her in the duel and take over as the leader of The Strix. Davina can then demand that Elijah help her perform the magic that will bring Kol (Nathaniel Buzolic) back from the dead.
Watch Season 3 Episode 12 of "The Originals" at 9 p.m. (EST) on Friday, Feb. 12, 2016. You can also live-stream "Dead Angels" via CWINGO and The CW Seed.