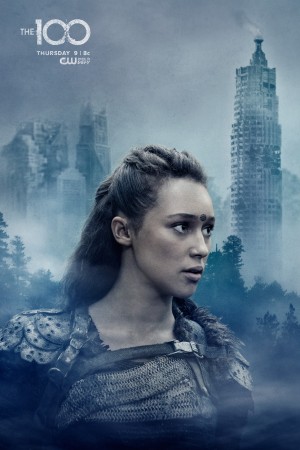 "The 100" Season 3 has given the fans a deeper understanding of the Grounders and their practises. Now that Clarke (Eliza Taylor) is at the Polis with Commander Lexa (Alycia Debnam-Carey), we will get to see a royal coup administered by the Ice Nation queen Nia (Brenda Strong) at the Grounders' capital.
In the previously aired "Ye Who Enter Here," Nia was seen preparing for her attack against Lexa. She had even arranged for the Mount Weather, with many of the Sky People still inside, to be blown up, in honour of the numerous Grounders that were tortured by the Mountain Men.
Now that Sky Crew is the 13th clan under Lexa's leadership, she will have to fight for their justice as well. In the upcoming "Watch the Thrones," Nia will be brought in as a prisoner, and will be sentenced to death. However, before the punishment is doled out, Nia calls for a vote of no confidence in order to overthrow Lexa.
Quite a few clan leaders lend their support to her demand and she will have to prove her worth as a leader and a warrior to retain the position of Commander.
In order to settle the coupe, Lexa will fight Queen Nia's son Roan (Zach McGowan) in a single combat death match. There is only one rule and that is the death of either of the warriors. A sneak peak shared by IGN shows the epic and monumental match between Lexa and Roan.
This will be the first time Lexa will actually be seen fighting. The episode will show the fans why Lexa has been revered as the leader of 12 Grounder clans.
In the previous episode, fans saw Lexa bow down to Clarke, and call her special. Clearly the commander has a soft spot for the Wanheda, but that has and will not stop her from making logical decisions to protect her people. Clarke seems to finally understand that, and respect the leader for who she is. Just ahead of Lexa's fight with Roan, she arrives at the place of combat.
"I'm glad you came," Lexa tells Clarke, and she replies, "Me too." Clarke is clearly scared of what fate awaits Lexa and wants to make sure she was there to show her support, if the fight would lead to her death. However, all fans will agree that there is almost no chance of Lexa getting killed in the dual. In all probability, "Watch the Thrones" may be the last episode fans will get to see Roan in.
Also Read: Filler episodes continue in "Supernatural" Season 11
There is a clash for power at the Arkadia, too, where Pike (Michael Beach) wants to attack the Grounders and Kane (Henry Ian Cusick) wants to wait for Lexa to take an action. As seen in the previous episodes, Pike does not trust any Grounders and wants nothing to do with them.
Moreover, his friends, who were in Mount Weather, were killed by Ice Nation. Pike wants vengeance by attacking the Grounders, and he warns others that if they fail to take action now, Ice Nation will attack Arkadia.
Kane, on the other hand, knows that Arkadia can only survive if they honour their allegiance to Lexa and also he is concerned about Clarke's safety. She is at the Polis, alone among the Grounders, and she will definitely face the consequences of her people's actions.
Watch Season 3 Episode 4 of "The 100" at 9 p.m. (EST) on Thursday, 11 February. You can also live stream "Watch the Thrones" via CWINGO or The CW Seed.