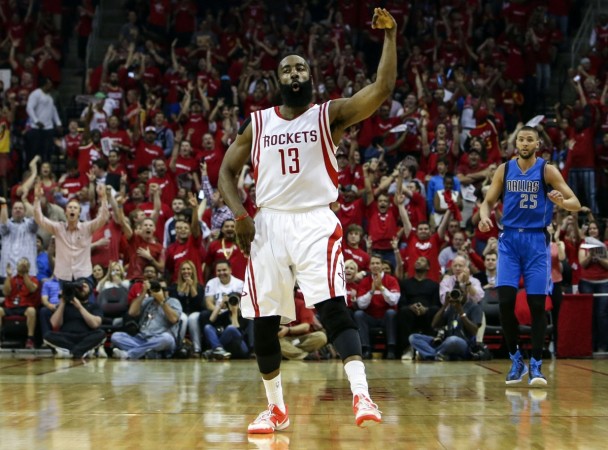 The first game of the Houston Rockets-Dallas Mavericks clash was mostly about James Harden being double teamed by Mavericks, who still lost to an upbeat Rockets team. The score read 118-108.
The Mavs are required to forget their last game as they gear up for the second game against the Rockets in the first round of the Playoffs. Though, Mavs were very tight on their defence against Harden, they provided other Rockets players an extra yard of space.
Other Rockets players were required to step up their game and how beautifully did these players answer with six players able to come up with 10 or more points.
"That's means everybody's touching the basketball, everybody's getting involved and they can't only just stop one person," AP quoted Harden as saying.
"They put two (defenders) on the ball, me I make the pocket pass, I made the easy play and had confidence in my teammates to make the next one."
Harden may not have had a high scoring game against the Rockets from his usual game as he finished with 24 points, but had an incredible 11 assists against his name.
Dallas Mavericks player Dirk Nowitzki feels it was too easy for the Rockets as they were making easy pick and rolls to the basket with Harden being a centre of focus.
"Obviously, we were paying a lot of attention to James, but they made some plays off the pick-and-rolls. It's just too easy," said Nowitzki.
The Mavs were forced to come up with such strategy with Harden coming off a great NBA regular season.
With the Rockets winning the game with relative ease, it would be interesting to see as to what strategy the Mavs would come up with in their second game after their failure to contain Rockets.
But, the Mavs have a problem as well for the Rockets have other players like Corey Brewer, who can turn on the heat if Harden is having a low game. Brewer hit some important three pointers during the game as well.
The first game of the best of seven series is always important and Brewer wants to win Game 2 as well.
"It's all about Game 1. You have to get Game 1, especially when you have homecourt advantage. For us, it was big to get a win. We got a win, and now we've got to get Game 2," AP quoted Brewer as saying.
This game would be crucial for both the teams, especially Mavs, who needs to win this game if they do not want to host Game 3 at Dallas trailing 2-0 in the series.
Where to Watch Live
The NBA Playoffs Round 1 Game 2 between Houston Rockets vs Dallas Mavericks is scheduled for 9:30pm ET (7am IST, 2:30am BST) start.
Viewers in the US can watch the game live on TNT.
Indian viewers can watch it live on Sony Six.
NBA fans can also watch the Playoffs live on NBA.com.