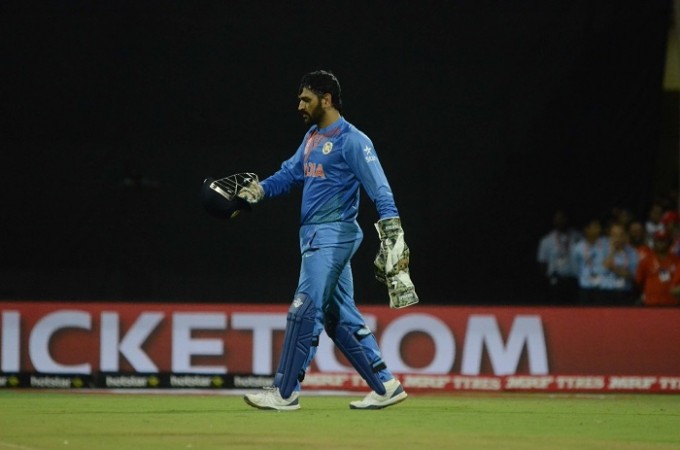 MS Dhoni and retirement questions are not going to go away easily, especially when India continue to fall in the knockout hurdle in World Cups. With Virat Kohli doing an excellent job as Test captain, questions over Dhoni's future are inevitable.
So much so, that Dhoni himself had come prepared with an answer to the question he knew would be asked. Unfortunately, though, for the India limited-overs captain, the retirement question was asked by an Australian reporter, which rendered his prepared answer moot.
Dhoni, who saw his India team go down to the West Indies in the ICC World T20 2016 semifinal, however, recovered well enough to the question posed by the Australian reporter. The India captain, first, asked the mediaperson to come and sit next to him, before going through the retirement questions with an arm around his shoulder.
It all began when the Australian journalist, writing for Cricket Australia's official website, asked: "Are you keen to continue playing on?
Dhoni replied with an un-Dhoni like reply, saying: "Come here, let's have some fun. I am serious, come here.
The journalist, sheepishly walked all the way up to the top of the press conference and sat next to the captain, who had pulled a chair for him, before asking: "Do you want me to retire?"
"Not that I want, That's what I want to ask you," the journalist replied, probably wondering what he had gotten himself into.
Dhoni the posed the do you think I am not fit enough question. "I was hoping it was an Indian media guy because I can't really ask you if you have a son or a brother who is a wicketkeeper," the 34-year-old said. "Do you think I am unfit, looking at my running?"
To which the journalist answered: "No. You're very fast."
Dhoni then asked another question: "Do you think I can survive until the 2019 (50-over) World Cup?"
The journalist's answer: "Yes you should, sure."
"Then you have answered the question," Dhoni said.
At that point, Dhoni let the journalist go back to his seat, amid much applause and laughter, before adding a bit more. "I wish it was an Indian mediaperson. Then I would have asked if he has a son who is a wicketkeeper and ready to play.
"He would have said no, then I would have said maybe a brother who is a wicketkeeper and who is ready to play.
"You fired the wrong ammunition at the wrong time."