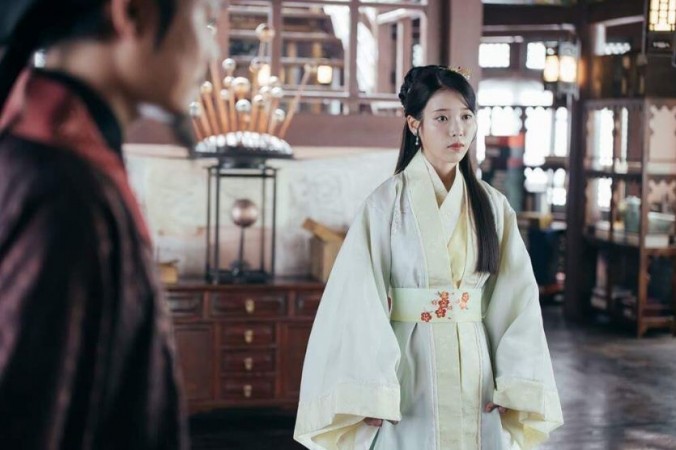 Prince Wang So and Hae Soo might not sail on the same boat from episode 18 of Moon Lovers: Scarlet Heart Ryeo, which is scheduled to air on Tuesday, October 25, at 10 pm KST on SBS.
After teasing a happy ending for the on-screen couple, the period drama could take a turn for the worst in the next sequel. Circumstances might force the two to part ways, resulting in a new conflict and more bloodshed.
In episode 17, the Hwangbo siblings seeded their evil moves against the newly appointed King and his lover. While Yeon-hwa expressed her wish to be the queen, Prince Wook talked about how he can help his brother in managing wealth and handling military forces.
Meanwhile, the latest episode of the Korean mini-series also indicated the death of Lee Ji-eun aka IU's character. However, it is not clear if it was part of the evil plans by Kang Ha-neul's character.
The upcoming episode will continue to follow the serious of events and focus on the various challenges faced by the onscreen couple. Click here to watch the period drama online via live stream for more details on Prince Baek-ah, Woo-hee and Prince Jung. The sequel will also be available online through SBS app.
The followers of the Korean mini-series can expect their fear to come true in the new episode as official trailer has already hinted at troubled moments for the two.
In the promo, Kang Han-na's character is seen embracing the fourth king of Goryeo dynasty and telling him, "Your majesty should protect your throne. I will make our son the next king." The clip then introduces its viewers to an aggressive king, who can be heard saying, "How dare he used the throne as a bait and toy me around!"
The sneak peek video also focuses on a conversation between the female lead and her lover, wherein Lee Joon-gi's character is seen telling her that she is his one and only queen. In the next scene, astronomer Choi Ji-mong is seen requesting Lee Ji-eun aka IU's character to give up on her marriage with the king.
The 30-second-long video ends by teasing a bloody thirsty Wang So, who can be heard saying, "In the end, I have become a monster in Soo's eyes. I will never let him off!" Watch the official trailer for Moon Lovers: Scarlet Heart Ryeo episode 18 here.