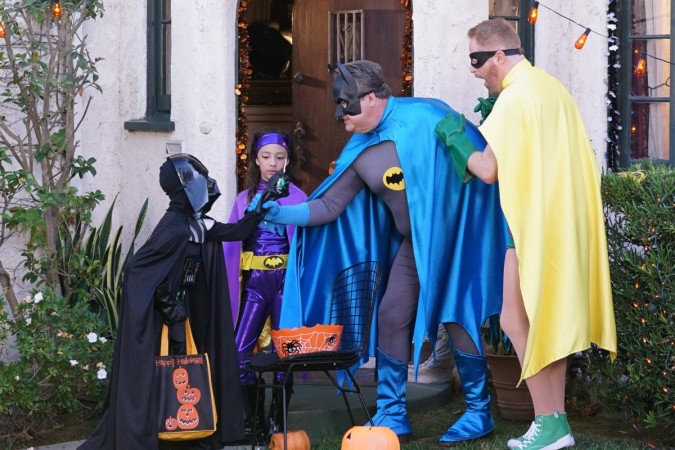 ABC's hit TV series Modern Family is still celebrating Halloween and in this week's instalment, Luke Dunphy is at the centre of the plot. In season 8 episode 5 titled Halloween 4: The Revenge of Rod Skyhook, Luke tries to be rebellious, but realises that he needs his parents.
Luke, the youngest of the Dunphy clan, tells his parents that he's mature enough to throw a party on his own. Although Claire and Phil are supportive of his decision, they try to include themselves by bringing their weird sense of humour and costumes to the table.
This is evident when Claire tells her son that everything could go wrong if they aren't invited. "Hey, I just heard a story about a kid who had an unsupervised party and one of the guests broke his leg because he jumped off the roof onto a trampoline and sued the parents," she says.
Although Luke realises that the Dunphys do have a trampoline, he doesn't take the bait. He tells his best friend aka dad that the oldies aren't invited no matter how hard they try.
This statement throws Phil into a panic mode and he gives Alex a list of emergency numbers, homeland security included.
However, Phil's emergency numbers list proves to be useless when Luke's party goes awfully wrong. The teenager asks his parents for help and the Dunphys come together to save his reputation.
To be sure, Modern Family's Halloween episodes always celebrate family and season 8 episode 5 doesn't seem any different. Perhaps the only difference is that it is Luke and not Haley who gets into trouble.
Season 8 episode 5's synopsis (via TV Guide) reads:
Luke hosts a Halloween party that quickly turns into a nightmare, so the Dunphys come up with a plan to make it a success and rescue his reputation.
Meanwhile, Cam confronts his holiday nemesis, but Mitch and Lily try to keep him from going overboard; and Jay plots revenge on an old adversary when he finds out where Manny is going to a party.
Modern Family season 8 episode 5 airs at 8 pm EST on Wednesday, October 26, on ABC. You can live-stream the episode via ABC GO.