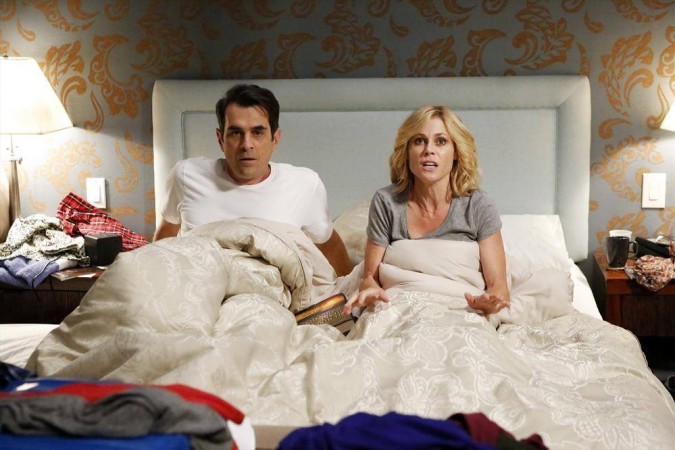 Since ABC's "Modern Family" is going on a short break after the upcoming "Man Shouldn't Lie," the episode will certainly be memorable enough to leave us wanting for more. Season 7 episode 19 of "Modern Family" will see Claire (Julie Bowen) bringing a stranger into the Dunphy home without Phil's (Ty Burrell) knowledge.
The promo for "Man Shouldn't Lie" shows the cutest guest star "Modern Family" has ever seen, who happens to be an adorable little stray dog. Claire rescues the little dog and brings him home, but does not want her husband to know about it. She seeks the help of her children to hide the puppy from Phil.
However, her plan backfires when Phil sees that Claire is being evasive towards him. He makes astronomical efforts to grab his wife's attention. In the promo, an unkempt Phil tell his son Luke (Nolan Gould) he has been "rocking" the same pair of sweatpants every day of the week. When Luke asks him if he has been following the same pattern with his underwear, Phil replies rhetorically, "what underwear?"
Also Read: Drag queen Robbie Turner hopes to have her own variety show
Meanwhile, Cam (Eric Stonestreet) starts jamming with a Christian rock band that is renting their upstairs apartment. Fans know how Cam gets sucked into the lives of others and he overdoes something he loves doing. It looks like "Man Shouldn't Lie" will be a repetition of "She Crazy" for Cam.
According to the promo shared by Television Promos, it looks like Jay (Ed O'Neil) will also make some new friends in the upcoming episode. He did not want to make any couple friends, but Gloria (Sofia Vergara) tricks him into hanging out with the husband, and Jay is impressed how much of a guy's guy he is.
Watch Season 7 episode 19 of "Modern Family" at 9 p.m. (EST) Wednesday, April 13. You can also live-stream "Man Shouldn't Lie" via ABC Go!