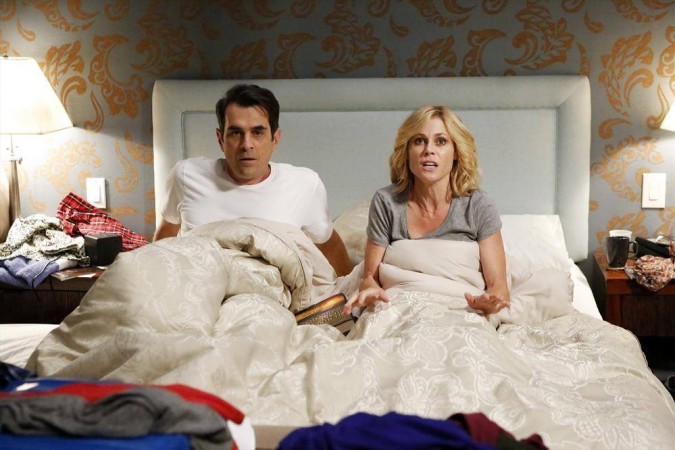 After a week-long break, ABC's "Modern Family" is returning Wednesday, March 16, 2016, and it will deal with the happily married couple Phil (Ty Burrell) and Claire (Julie Bowen) lying to each other. Season 7 episode 16 titled "The Cover-Up," will also see Lily (Aubrey Anderson-Emmons) learning to ride a bike.
According to the official synopsis for "The Cover-Up," Claire will join Gloria (Sofia Vergara) on her hot yoga class to relieve some stress, and get more than she bargained for. Gloria, who thought the hot yoga instructor was hitting on her, had asked Claire to go along as buffer.
However, once the instructor sees Claire, he starts showering inappropriate attention on her, leaving Gloria baffled and jealous. Claire thrives on the attention and continues with the classes, even lying to Phil about the gender of the instructor.
Phil, on the other hand, hangs out with a client who is "his type" and is afraid that Claire wouldn't be too happy about it. So instead, he decides to hide the friendship from Claire and starts saying white lies to cover up the reality. Soon, the innocent lies turn into a dangerous web that he cannot escape.
Also Read: Karma and Amy enter a new kind of triangle drama
Meanwhile, Cam (Eric Stonestreet) and Mitch (Jesse Tyler Ferguson) try to teach a wary Lily how to ride a bike. Although Cam hopes that seeing him ride side-by-side will inspire her, Lily is adamant that the sport will result in her death, as evidenced by the promo shared via "Modern Family" Facebook page.
Newly-retired Jay (Ed O'Neil) has a lot of time on his hands currently and starts making his own web series. However, he becomes obsessed with the internet troll that keeps leaving horrible comments and decides to track them.
The summary does not mention Andy (Adam Devine) and Haley (Sarah Hyland), or any of the kids other than Lily, meaning their storylines may be absent from episode. However, they will be hanging around, helping push the elders' stories forward.
Watch Season 7 episode 16 of "Modern Family" at 9 p.m. (EST) Wednesday, March 16. You can also live-stream "The Cover-Up" via ABC Go!
Any yoga has the potential to turn into hot yoga!

Posted by Modern Family on Sunday, 13 March 2016