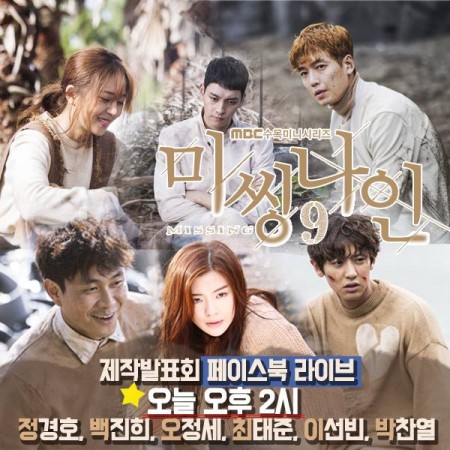 Missing Nine, an upcoming Korean mini-series, will introduce its cast members in a special episode, scheduled to air on MBC at 10pm KST on January 12, Thursday.
Weightlifting Fairy Kim Bok Joo episode 16 (finale) recap: Season 2 predictions
The period drama revolves around the lives of nine plane crash victims, who struggle to survive in a desert island. While focusing on the various challenges faced by them, the series might also show their past lives in flash back sequences.
The show stars Jung Kyung-ho, Baek Jin-hee, Oh Jung-se, Choi Tae-joon, Lee Sun-bin, Park Chanyeol, Kim Sang-ho, Tae Hang-ho and Ryu Won in lead roles.
While the Cruel City star will be playing the role of an unsuccessful K-Pop idol named Seo Joon-woo, the actress of Bandhobi fame will portray his new stylist Ra Bong-hee and the Running Man actor will be his manager Jung Ki-joon onscreen. The young heartthrob and EXO member Chanyeol will play a successful solo singer named Lee Yeol in Missing 9.
Other celebrities to appear in the MBC drama include Choi Tae-joon as troublemaker Choi Tae-ho, Lee Sun-bin as a popular Korean singer named Ha Ji-ah, Ryu Won as popular Hallyu actress Yoon So-hee Kim Sang-ho as President of Legend Entertainment Hwang Jae-Guk and Tae Hang-ho as his secretary.
The Korean mini-series is written by Han Jung Hoon and directed by Ashbun. It is scheduled to premiere on MBC next Wednesday, January 18, at 10pm KST.
Click here to watch Missing Nine live online on MBC tonight at 10on Korean Time. The special episode, titled Missing Nine The Beginning, will also be available online here for fans across the globe.
Check out the official trailer for the Korean mini-series below: