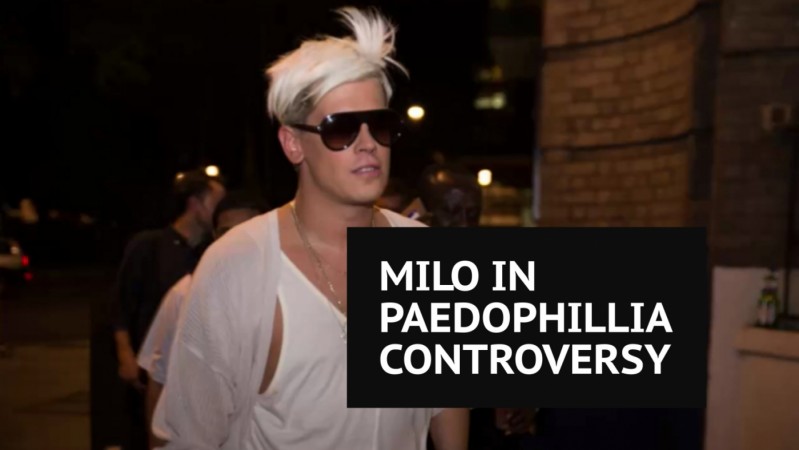 Milo Yiannopoulos, an editor at the right-wing Breitbart News, resigned from his position on Tuesday after facing heavy backlash over his controversial comments on paedophilia.
Milo Yiannopoulos accused of supporting paedophilia after questioning consent laws
Yiannopoulos' resignation announcement came after Simon & Schuster cancelled his book deal as his earlier made remarks resurfaced in the media, where he is clearly seen defending paedophilia and the relationship between a young teenage boy and older men. Soon after his remarks emerged, Yiannopoulos' invitation to speak at this year's Conservative Political Action Conference was also revoked.
Yiannopoulos announced his resignation in a press meet and thanked the company for allowing him to "carry conservative and libertarian ideas to communities that would otherwise never have heard them."
Watch his resignation video here:
"I would be wrong to allow my poor choice of words to detract from my colleagues' important reporting, so today I am resigning from Breitbart, effective immediately," Yiannopoulos said in a statement. "This decision is mine alone. When your friends have done right by you, you do right by them. For me, now, that means stepping aside so my colleagues at Breitbart can get back to the great work they do," he added.
Who is self ascribed supervillain Milo Yiannopoulos?
He also issued an apology statement and told reported that he was sorry for his choice of words. "This is me apologising for saying things I did not mean. For those statements I did make where I misspoke, I'm here today to apologise," Yiannopoulos said.
Here's the video where Yiannopoulos appears to defend pedophilia:
Yiannopoulos, a tech editor with Breitbart and a leader of the alt-right movement in the US (though he personally doesn't align with them), had recently signed a book deal with Simon & Schuster imprint Threshold Editions — which publishes conservative titles— for a reported $250,000 advance. The book, Dangerous, had recently catapulted to No. 1 on Amazon's bestseller list on pre-order. The larger issue around publishing Dangerous is the debate around free speech and censorship that the book has led to among US publications and media.