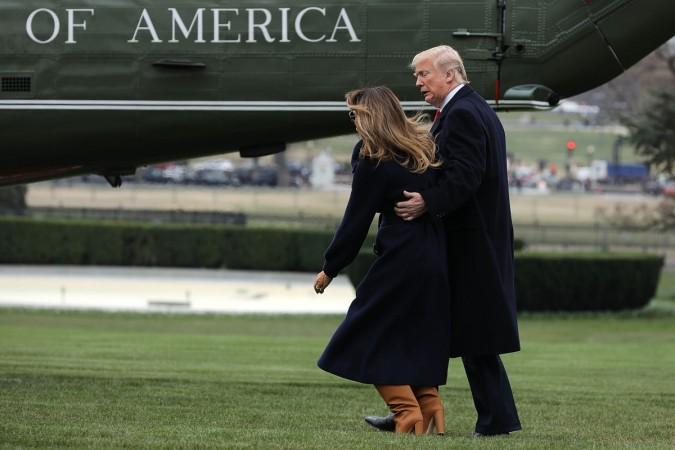 United States president Donald Trump and first lady Melania Trump are known for their awkward relationship moments, but this time, the couple is making headlines for their public display of affection.
Melania, who is known for walking in sky-high stilettos, stumbled Monday while boarding Marine One helicopter on the White House lawn but Trump came to her rescue and saved her. Trump grabbed her waist to ensure that she doesn't fall.
Trump had his arm around her waist and later Melania put her arm around him and hugged him. Trump and Melania visited Manchester in New Hampshire Monday to discuss the plans to combat the nation's opioid crisis.
Melania wore a belted blue Chloe trench coat and styled it with a pair of Gianvito Rossi's 4-inch heel boots. Trump wore a long dark suit, a long red tie and a long suit coat.
The moment when Melania appeared to stumble was captured on camera. This was one of the rare times when the president and his wife showed public display of affection in recent times.
Reports suggested that Melania was furious after Trump's alleged extra-marital affairs with porn star Stormy Daniels and Playboy model Karen McDougal came to light. A White House spokesperson had refuted the allegations.
"This is an old story that is just more fake news. The President says he never had a relationship with McDougal," spokesperson had said.
However, social media users were of the opinion that amid the scandal, Melania was giving cold shoulder to the president. In February, Melania appeared to ignore her husband when the two were leaving Air Force One in Florida. They were in Florida to meet the victims of the deadly school attack.