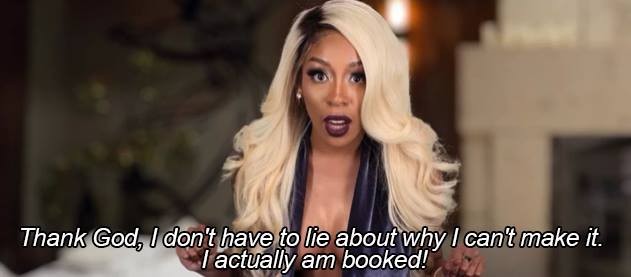 The catfights and weave grabbing of "Love and Hip Hop Atlanta" has culminated in the reunion of the Vh1 show, which will be aired on Monday, Aug.1. However, the tendency of the current cast members to fight has forced the showrunners to host multiple mini reunions than one for the entire cast.
As fans saw throughout Season 5, there have been many fights, petty and serious, and almost all them turned violent all too soon. Moreover, Joseline has way too many enemies and some of them are even ready to risk jail for a chance to cut her. Allof this means that even though the show may get aired from various localities, it is still going to be one of the best reunions of "Love and Hip Hop" history.
The reunion titled "Exposed and Unfiltered" will see every cast member speaking their mind, and it is understood that Betty Idol and Bambi will go off at each other. Although it had seemed like Betty and Scrappy had a little bit of chemistry towards the beginning of the season, Scrappy proved that he wants no woman other than Bambi, but proposing to her in the finale. It remains to be seen what Betty has in her arsenal, but it seems pretty clear that Scrappy has already made his choice.
Although plenty of fights are expected in the reunion episodes, it has becomes quite hard for us to believe that they are all real, especially after cast member K Michelle revealing that most of "Love and Hip Hop" is scripted.
Recently, a fan of the show tweeted at Ariane saying, "She allowed you to shadow her and then you left stranded, Ariane. You don't owe K. Michelle anything smh #LHHATL" To this a miffed Michelle replied, "Shut up… it was STAGED you bird behind a computer!" The tweet has since been removed, but we were glad to see Ariane was not actually stranded in the night, because her friend left her alone.
However, this revelation does not take away from the fact that "Exposed and Unfiltered" is going to be entertaining. Don't forget to watch Season 5 episode 17 of "Love and Hip Hop Atlanta" at 8 p.m. (EST) on Monday, July 25. You can also watch the episode online via VH1 website.