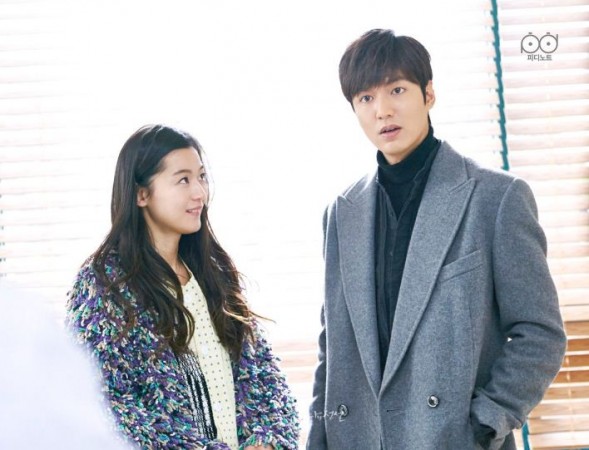 The Legend Of The Blue Sea will be back with episode 18 this Wednesday, January 18, at 10pm KST on SBS. During its one-hour run, the sequel will feature some unexpected twists and turns for Heo Joon-jae and Shim Cheong.
Also read: The Legend Of The Blue Sea episode 18 preview: Heo Joon-jae and Shim Cheong to part ways?
But the senior conman Jo Nam-doo will not attack the silver-tailed mermaid while her lover is engrossed in his own family problems. He will wait for the right time to team up with Heo Chi-hyun and move against the male protagonist.
With just two episodes left for the finale, the followers of the Korean mini-series are eager to find out if the onscreen couple will overcome the obstacles and get a happy ending towards the end of the show.
While speculations suggest that the two will not have a tragic ending similar to that of village head Kim Dam-ryeong and the golden-tailed mermaid Se-hwa, it remains to be seen if the show will lead its viewers to a sad romantic story.
The promo for the upcoming episode shows Lee Min Ho's character cursing himself for his father Heo Gil-joong's death and his girlfriend trying to console him. In the meantime, Kang Ji-yeon a.k.a Kang Seo-hee grieves over her husband's death in a dramatic way.
Later on, the female antagonist's son alerts her about his stepbrother and his plans to destroy them. Lee Ji-hoon's character even meets the senior conman at the hospital and discusses their scheming against Heo Joon-jae.
The sneak peek video also features a heated argument between Mo Yoo-ran and her rival, wherein the later raises her hands to slap the former. But, once again, Shim Cheong reaches out for her help and she will try to erase her memories. The trailer ends by hinting at troubled moments for the onscreen couple.
Click here to watch The Legend Of The Blue Sea live online on SBS tonight at 10pm Korean Time. Episode 18 will also be available online here for the Kdrama fans across the globe.
Watch the new promo of the Korean mini-series below: