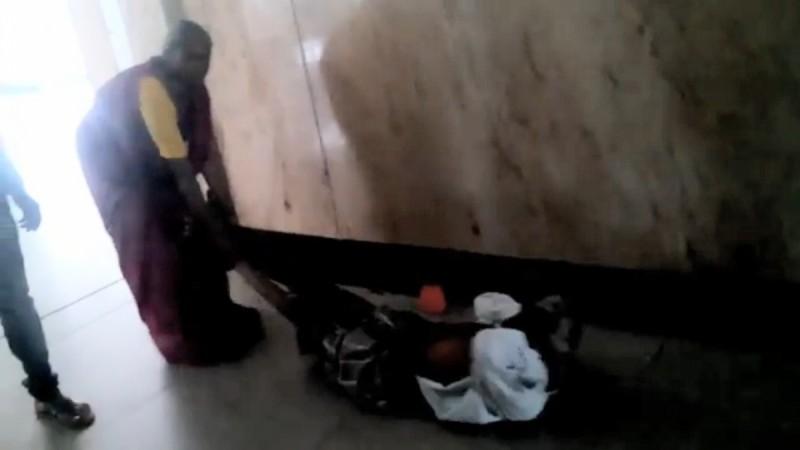 The worsening situation of healthcare in the interiors of Karnataka came to light once again on Friday, June 2, when a video surfaced showing a woman dragging her severely ill husband along the floor to get him to an X-Ray room because apparently no stretcher was available at the hospital.
This is hardly the first time such an incident has taken place in the state. Karnataka Health and Family Welfare Minister KR Ramesh Kumar had been pushed onto the back foot in May after visuals emerged from the Karnataka Institute of Medical Sciences (KIMS) in the Hubballi — formerly Hubli — district showing four pregnant women being ferried on a single stretcher.
The current incident is from the Shivamogga — formerly Shimoga — district of Karnataka. According to local reports, the man being pulled is one Aamir Saab, while the woman dragging him along the floor is his wife Fatima. The visuals are from last week, and were taken when Aamir was already admitted to the Megan Hospital for nine days following severe illness.
While the exact nature of his illness is unknown, vernacular reports say that the doctor looking after Aamir ordered that he undergo an X-Ray. The local reports quote Fatima as saying that she had had to drag her husband to the S-Ray room after the hospital attendants refused to issue him a stretcher because she did not have any money to give them.
Health Minister KR Ramesh Kumar has taken cognisance of this incidence as well, and has told reporters that the government is looking into the matter. It may be pertinent to note here that even in the incident involving pregnant women there were allegations that hospital attendants had refused to issue more stretchers because they were not given money.
Watch the video here: