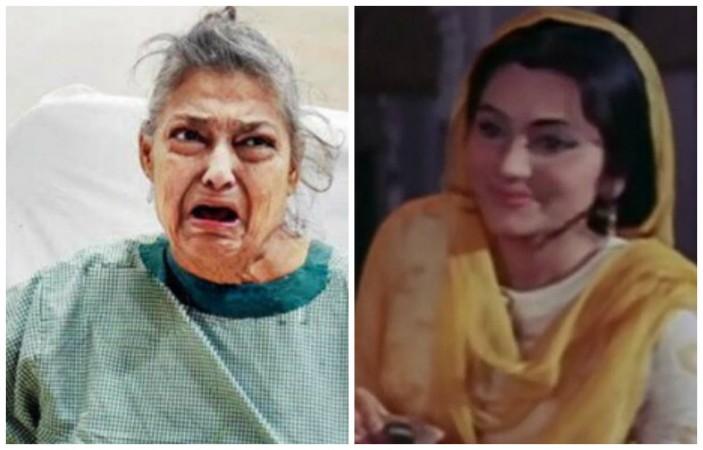 Veteran actress Geeta Kapoor, best known for her role in Pakeezah, was allegedly abandoned by her son halfway through her treatment at a Mumbai hospital. The 58-year-old was in critical condition when she was admitted.
Geeta also alleges that her son Raja used to physically abuse her. She also has a daughter, but neither of them is apparently willing to pay the hospital bills or take custody of their mother.
Raja left his ailing mother at SRV Hospital in Goregaon, and did not come back to pay the bills of around Rs 1 lakh or take custody of Geeta even after a month.
Narrating the horrific tale, the Pakeezah actress revealed how her son used to beat her and leave her without food for days. "He used to beat me up as I did not approve of his philandering ways. He would give me food once in four days, and sometimes, even lock me up for several days. I was not ready to go to an old-age home, that's why he planned all this. He deliberately kept me hungry and I fell ill. Then, he got me admitted and fled," Geeta told Mid-Day.
The hospital authorities reportedly called up Geeta's daughter Pooja as well, after Raja ignored their calls, but she disconnected the call claiming it to be wrong number. With no response from the two, the hospital authorities informed police, who are now thinking about taking legal action against Raja. While Raja is a choreographer, Pooja is an air-hostess.
Meanwhile, film-makers Ashoke Pandit and Ramesh Tauraniji turned up to help the ailing lady. On knowing about Geeta being abandoned by her son, the duo visited her at the hospital and paid the bills.
This incident has been receiving much attention on social media as well. People have been slamming Geeta's children, and also the industry people for not coming forward to help the veteran actress. But, Ashoke and Ramesh are being applauded for making the effort to reach out to her and helping her. See some of the Twitter reactions here:
Is there anything more sick, cruel and selfish than abondaning your own parents? They give everything.. for this? https://t.co/k3gjNzAmNs

— Devendra (@Majordevendra) May 29, 2017
Heartily thanks to Mr.Pandit,especially for this word " Paying the bills was not a big thing,really.I saw my mother in her." #GeetaKapoor

— MJ Anbumani (@mjanbumani) May 29, 2017
Read the news of Geeta Kapoor. In my craziest mind, I'd never ever imagine to do that. So unfortunate and sad :(

— VK (@TheMantallBwoy) May 29, 2017
#GeetaKapoor such a arsehole his son is .. How can a son abandon his own mom who has taken care of him all through his life ....

— HAJJU@beingsalmaniac (@hajjuhashimm) May 29, 2017
Heartbreaking?#GeetaKapoor Shame on this kind of childrens better not to hv kids at all.

— Blessed1? (@Anupama63340957) May 29, 2017