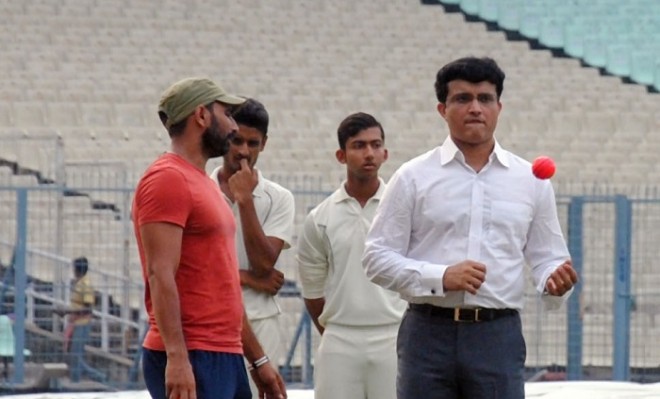 The first pink ball day-night match will finally reach India, when Mohun Bagan and Bhowanipore play in the Super League final at the Eden Gardens in Kolkata from Saturday. Originally scheduled to be a normal day match with the red ball, Sourav Ganguly's ability to see ahead and the need for India to finally bring some pink ball action into the game, starting with domestic cricket, this local encounter will now create history.
With a big Test match season at home up ahead, the BCCI are pushing for one of the teams touring India later this year and early next year to play a day-night Test match with the pink ball. The initial plan was for India to play New Zealand in a pink ball match, but after the Kiwis refused the offer, the BCCI will now need to convince one of England or Australia.
Either way, the pink ball, day-night Test match trend is about to hit India, when Mohun Bagan and Bhawanipore play each other at India's most iconic ground.
"Let's start something," Ganguly, the current Cricket Association of Bengal president, was quoted as saying by ESPNCricinfo. "Our problem is that we jump to too many conclusions before starting something. Let us go through it. Let us see the problems. Let us try and address them. And hopefully in six months' time, we'll fix it."
With interest in Test matches waning as T20 rules the roost, there is a need to bring in audience to the most important format of the sport. And if day-night Tests are the best way to do that, with a problematic pink ball or not, then that should be the way forward.
"It is definitely a challenge," Bhowanipore coach Abdul Monayem said. "But we will try to stand strong through the four days. "It will swing mostly and in the first 15-20 overs, it will be very difficult possibly for the batsmen. But I expect the gloss on the ball to wear off later and bring the spinners into the picture."
Both teams go into this four-day match with a lot of unknowns, and figuring it out as they go along will be one of the challenges; the team that handles that challenge better, will come away with the trophy.
"It will be challenging," Mohun Bagan captain Subhomoy Das said. "How will it feel in the hands, how will it behave under lights, will easy or difficult it will be to sight the ball. These are a few things we are worried about."
Where to Watch Live
The first official pink ball match in India – Mohun Bagan vs Bhowanipore – is scheduled for a 2.30 p.m. IST start. Live TV coverage of the match will be on Star Sports 2 and Star Sports HD2. The live streaming online option is on Starsports.com.