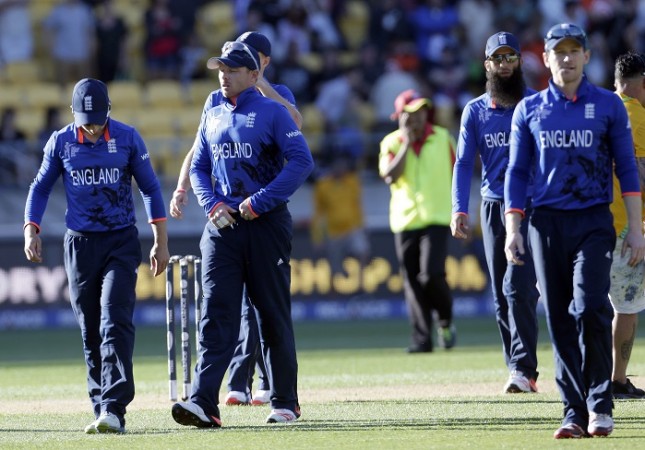 England have been as bad as they could have been really in their first two matches at this ICC Cricket World Cup 2015. Of course, they might have met the two strongest teams in the competition, but the manner of the defeats hardly gives any course for encouragement, and it does not get any easy for England as Scotland, desperate for a big scalp, lie in wait on Monday.
After being thrashed by Australia and New Zealand in their first two games, England will be desperate to pick up a win in this UK derby against Scotland in Christchurch.
While the loss to Australia was scathing in itself, the collapse to New Zealand was monumental. Not only did they get bowled out for 123 against a Tim Southee-inspired Black Caps, they then barely put up a fight with the ball as Brendon McCullum went berserk.
Hopes of England getting too far in this World Cup have been tempered down quite a bit after the first two matches, and the only way to get back into their groove is to topple Scotland, as they should if they are at their best.
"It was a hugely disappointing day and back up from the game at Melbourne," said England coach Peter Moores. "I feel for the people that have come to watch because it wasn't a good enough performance and I think everybody associated with that has to bear the blame because people had to go and watch it and we've got to come back with something."
"We've got to play better there's no doubt about that. The players would agree. The lads were up for it, the preparation was good, we got there and we didn't front up on the field and play the way we wanted to play.
"We've got to play with a different style, we've got to play with – not 'freedom' – but there's an intent and aggression we need to show that makes people proud to want to watch, and accept that if you get beaten away, you've had a crack, you've had a go and I don't think we had a crack."
Talking, of course, is a lot easier than actually performing on the field, and with pretty much all their batsmen looking woefully out of form, chief of them being their skipper Eoin Morgan, Scotland rightly feel they are primed for a major upset.
Coached by former England stalwart Paul Collingwood, Scotland will know everything there is to know about England, and having given New Zealand a scare already, they will look to go one better and pull of a victory.
"With my Scotland hat on, there's real confidence and belief we can get a win," said Collingwood in his column for the ICC's official website. "It's genuine because the guys are getting closer and closer against international opposition.
"We fought all the way to the end against New Zealand and it was only a three-wicket margin and we should have won against the West Indies the week before so we're getting there.
"Of course, it will be an emotionally strange day for me, having been involved in England for so long and playing with a lot of the players in the side, but I'm 100% right behind trying to get Scotland to get this win.
"That's going to be an amazing feeling if we can get that first-ever World Cup win under our belt, there's no better time than against England. That would mean so much to Scottish cricket."
England need to bowl and bat better than they have done in their last three competitive games – plain and simple. If they don't do that, then their neighbours will probably leave Christchurch with massive smiles on their faces.
Where to Watch Live
Get the Match Report HERE
Get the Live Scorecard of the match HERE
England vs Scotland is scheduled for an 11 am local time (3.30 am IST, 10 pm GMT, 5 pm ET) start with live coverage in India on on Star Sports 1, Star Sports HD1, Star Sports 3, Star Sports HD3, Asianet Movies. The live streaming option in India is on the Starsports website and also via their Live Pro option.
Audience in the UK can catch the game live on Sky Sports World Cup or Sky Go. Viewers in the US can watch the match live on ESPN and Watch ESPN, while Australia viewers can do the same on Channel 9 and Fox Sports. The match can also be live streamed in Australia on Cricket Australia Live, Cricket Australia Live App and Foxtel.