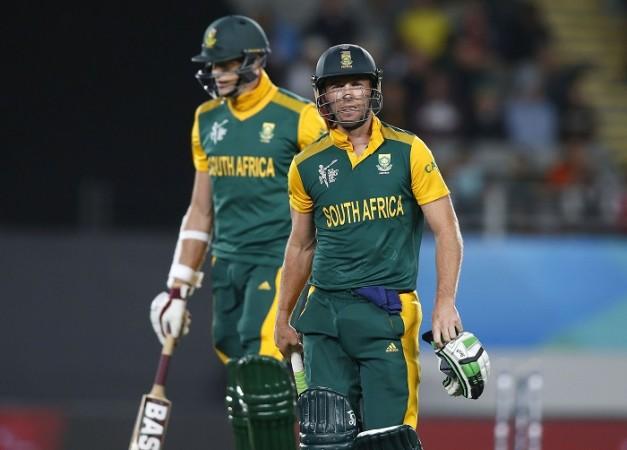 That loss to Pakistan still probably on the back of their minds, South Africa will look to move on and find their winning groove again when they play the UAE in the ICC Cricket World Cup in Wellington on Thursday.
South Africa showed their penchant of struggling when under pressure one more time against Pakistan, completely losing their way in a relatively easy chase. Such was the collapse, that even the mighty AB De Villiers was left with too much to do, and the skipper was far from a happy man after the match.
Having had a few days to ponder on that performance, De Villiers and South Africa will look to learn from the mistakes made against Pakistan and try and put in as professional a performance as possible before the quarterfinals, which looks like being against Sri Lanka, if, as expected they finish second in Pool B and the Lankans end up third in Pool A.
"When you find yourself in that pressure moment, the last thing you think about is the team game plan because it gets too big for you," said JP Duminy, who was one of many batsmen who threw their wicket away against Pakistan. "We are human.
"We make mistakes but that's not an excuse. We get chosen to represent our country and to play on this big stage. This is what international cricket is about - performing in those big moments. There are one or two guys who are getting it right as individuals but we are not getting it right as a team."
Twice South Africa have been put under pressure during a chase, and twice they have melted away, with the 400+ scores against West Indies and Ireland not papering over the cracks enough to make everyone forget about their troubles against India and Pakistan.
"It's not an issue," said De Villiers. "I believe we can chase down any total. There is no special strategy. You have to do the basics well. We've done it in the last year a few times under pressure.
"We didn't get it right the last couple of chases and that's alright. I am still confident in the batting unit. I believe there are a few guys due for big runs and it's going to happen soon at the right time."
South Africa might not need to step out of second gear to stop the UAE in their tracks, so their real test will now only come in the quarterfinals. However, a big win over the Associate side will act as a bit of a balm to those still-alive wounds.
The UAE have two games left to go in this World Cup, including the one on Thursday, with their final match against the West Indies. Having not really troubled any of the big teams so far, the UAE will look to take advantage of the perceived soft underbelly of South Africa, while they will also fancy themselves against the West Indies.
"South Africa can be put under pressure," said UAE captain Mohammad Tauqir. "I don't see them scoring 400 against us. We saw Ireland beating West Indies and we are positive we can do that as well. But even for the South Africa game, we are positive."
Where to Watch Live
Get the Report of the Match HERE
Get the Full Scorecard of the Match HERE
South Africa vs UAE is scheduled for a 2 pm local time (6.30 am IST, 1 am GMT, 8 pm ET) start with live coverage in India on Star Sports 1 and Star Sports 3. Viewers in India, and other select territories, can also watch the match via live streaming online on Starsports.com or Star Sports Live Pro.
South Africa and Sub-Saharan Africa viewers can catch the action live on SuperSport or live stream the match on SuperSport Live. Audience in the Middle East will be able to catch the game live on OSN and OSN Play. ESPN will show the game live in the US, while the action can also be live streamed on ESPN Cricket.
Australia viewers can watch the match live on Channel 9 and Fox Sports or via a live stream on Foxtel and Cricket Australia Live. Audience in New Zealand can watch the match live on Sky TV or Sky Go NZ. Viewers in the UK can tune in to Sky Sports 2 or catch the match online on Sky Go.