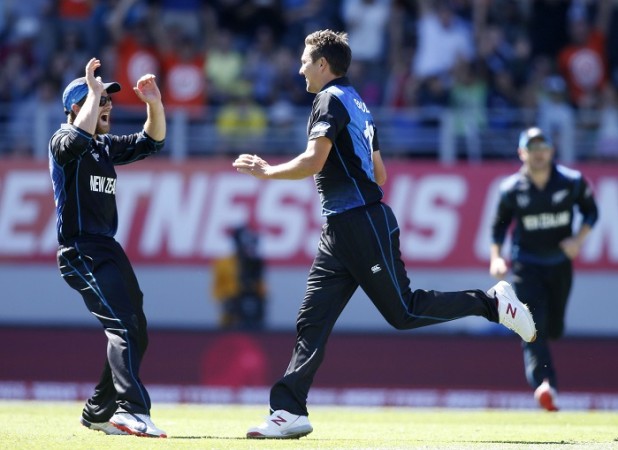 After being pounded out of the park by Australia, it does not get any easier for Afghanistan as they face the in-form co-hosts of the ICC Cricket World Cup 2015 – New Zealand.
The Kiwis have had a week to soak-in that incredible one-wicket win over Australia, and despite sealing their place in the quarterfinals with that victory, the Kiwis will go into the match against Afghanistan with the same super XI.
Those 11 players have helped New Zealand to four wins out of four, and with Afghanistan travelling all the way from Perth to Napier for this match in the space of a few days, a fifth win looks inevitable.
"It's not ideal. We were in Dunedin and it would have been much better and easier for us to come straight here then go to Perth," said Afghanistan coach Andy Moles said. "I'm sure there are elements we aren't aware of to squeeze the fixtures in. We are being positive, we managed to get to the front of plane which was nice and we got some rest. We are not using it as an excuse.
"It's true to say we are bit weary. We've tried to put a positive spin on it; the guys have seen a new part of the world so for their development as human beings it's been a good thing. I think every side is feeling a little weary. We've had a bit of a jaunt but we are all ready."
New Zealand's bating was tested quite severely by Mitchell Starc and the rest of the Australian bowlers, and with Afghanistan having three really good fast bowlers in their own lineup, nothing can be taken for granted, even if the Associate side gave away the highest ever runs in a World Cup match last time out against the Aussies.
"I have said it all along that we are not good enough to take any team lightly," said New Zealand captain Brendon McCullum, who is fit after receiving a scare when he was struck on the elbow against New Zealand. "They look like a team, under [coach] Andy Moles, that is playing with a lot of passion and have been enjoying their World Cup so far. We are respectful of the challenge they bring us.
"Whether they are the top team in the world or they are ranked 10 or 15 we need to turn up and put on a performance that is worthy of the style of cricket we want to play. If we do that, then any team we come up against will have to play well to beat us."
Where to Watch Live
Get the Match Report HERE
Get the Full Scorecard of the Match HERE
The match in Napier is scheduled for a 11 am local time (3.30 am IST, 10 pm GMT, 5 pm ET) start with live coverage on Star Sports in India. Viewers in India, as well as Sri Lanka and Bangladesh, can watch the match via live streaming online on the Starsports website and Starsports Live Pro.
The game can be watched live in New Zealand on Sky TV while all the match action can be live streamed online on Sky Go NZ. Australia viewers can watch the match live on Channel 9 and Fox Sports with the live streaming options on Cricket Australia Live and Foxtel.
Catch the action live in the UK and Ireland on Sky Sports, with the option to live stream the game on Sky Go. Audience in US can watch the game live on ESPN or the action can be live streamed on ESPN Cricket. Viewers in the UAE can do watch the match live on OSN Sports or OSN Play.