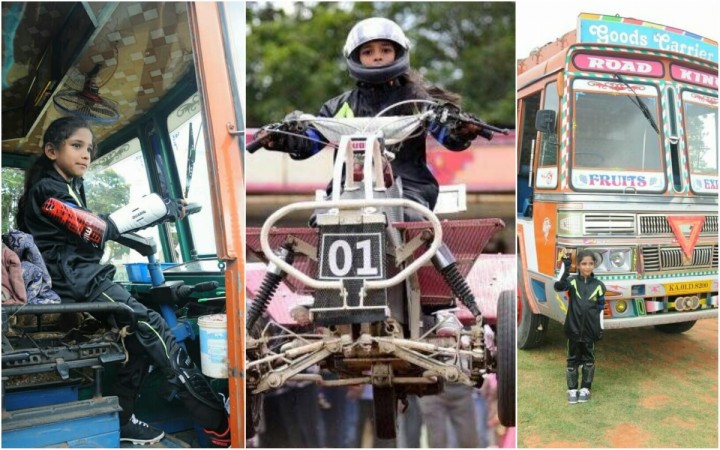 For seven-year-old Rifah Taskeen, who hails from Mysuru, driving multi-wheeled vehicles is no big deal. She has caught the attention of many for effortlessly driving two-wheelers, quad bike, SUVs and even 10-wheeled lorry.
The Class 2 student of St Joseph's School in Bannimantap in Mysuru is now all set to enter the Golden Book of World Records (GBWR). On Sunday, November 5, the child prodigy exhibited her driving skills at Idgah Ground in Tilak Nagar by driving a total of 13 vehicles, including four wheelers and lorry.
Watch Youngster thrashed for not letting jeep drive on the wrong side

Considering her performance, the team of GBWR has handed over a provisional certificate and the main certificate is expected to be given to her within two weeks.
Rifah's father Syed Tajuddin is said to have taught her ride a motorcycle when she was just three years old. Four years later, she started driving four wheelers and heavy vehicles. She wishes to become an Indian Air Force fighter pilot.
Minor's driving acts raises eyebrows
Many have raised questions about allowing the minor to drive vehicles though it was for achieving a 'world record' and documenting it. On Sunday, many arrived to witness the skills of Rifah and it is alleged that there was no barricades or safety measures.
However, it is understood that the event was conducted seeking special permission from the RTO.
Watch Rifah's driving videos here:
-