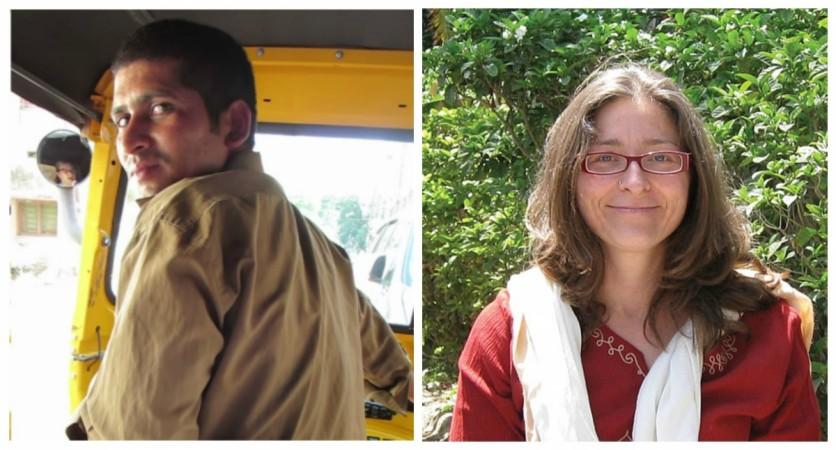 When you try to hire an auto in Bengaluru or Hyderabad, the most common dialogues we hear from auto drivers are "No" or "Pay Meter charge+20".
While many passengers put up with the menace, there are some who don't take it lying down and decided to teach a lesson to such errant auto drivers. One such incident happened recently in Hyderabad.
C Christine Fair, a foreigner, shamed an auto driver, who refused to drop her at her destination Charminar, Hyderabad by doing something unexpected.
Fair, who has stayed in India for a long time, has a good command over Hindi language and started recording a video of the driver after he refused to take her to the destination.
She also told him that she will spend the entire day inside the auto as it was her off day.
In the video, the foreigner is seen speaking fluent Hindi and is even seen singing Hindi songs "Mujhe Need Naa Aaye, Chein Naa Aaye" ("Dil", 1990) and "Yeh Zindagi Usi Ki Hai" ("Anarkali", 1953).
Finally, the embarassed auto driver is seen taking her to Charminar. Fair also reminds the driver to turn on the meter, which he does, as he was left with no option.
"This is how to handle a scoundrel taxi or autowallah who either doesn't want to take you to your destination (for whatever fazul bahanna he offers) OR use the meter. It's taken me some 20 years to figure out this technique to get an auto or a taxi driver in India to take me to my destination with the meter on. You can see this man has been utterly defeated. I need to carry with me some song sheets. Note that I have used this technique now in several cities. It has worked every time. No need to get mad. Just toss away your shame...and wait out the miscreant. I suspect it will work elsewhere in South Asia," Fair writes as a description for the viral YouTube video.
Fair is an assistant professor at the Center for Peace and Security Studies at Georgetown University's Edmund A. Walsh School of Foreign Service, USA.
Watch the video below: