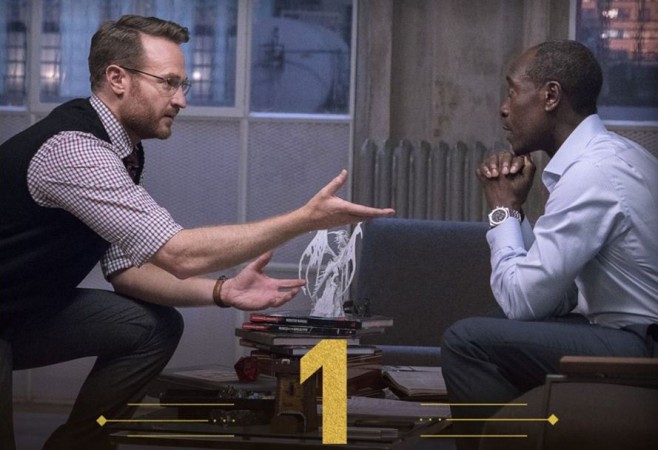 The upcoming Season 5 episode 2 of "House of Lies" titled "Game Theory" will see at least two of the core four getting into sticky situations. Meanwhile, it remains to be seen if Marty (Don Cheadle) will tell her how he feels about Jeannie (Kristen Bell).
As fans know, Mark (Ken Marino) and Jeannie have been fooling around, and the former will use this against Jeannie for some financial gains. In a promo for the upcoming "Game Theory," Mark acts very weird, forcing Jeannie to ask if he is breaking up with her. However, his news turns out to be worse than that.
Mark tells her that he has filed a sexual harassment claim against Jeannie. Considering she is the CFO of the company, Mark hopes that his claim will land him some settlement money and all Jeannie will have to do is attend seminars about sexual harassment in the work place.
He hopes to use the money from the settlement as a financial cushion to chase the dream of becoming a teacher. An exasperated Jeannie asks him dryly if he was going to teach ethics. Although he appreciates the intellect behind the "zing," Mark tells her that he wants to be a chemistry teacher.
Also Read: Check out the new cast members joining "Ray Donovan" Season 4
While Jeannie deals with this trauma, Doug (Josh Lawson) becomes the hero by bringing in a client. However, his friends will definitely not let him enjoy the success and Marty almost immediately snatches the potential client away from him.
The client is a beautiful lady named Sabritha aka Tess, who meets with Doug weekly to play "Dungeons and Dragons" and he is apparently her "dungeon master." Although the rest of the crew is only impressed with Doug for knowing a beautiful woman, Clyde (Ben Schwartz) informs the gang that she is a business mogul.
Marty jumps at the opportunity to make a new client, and despite Doug asking him to let him close the deal, Marty decides to show up for the "Dungeons and Dragons" game to take it up himself.
Watch Season 5 episode 2 of "House of Lies" at 9 p.m. (EST) on Sunday, April 17. You can also live-stream "Game Theory" via Showitme Anytime.