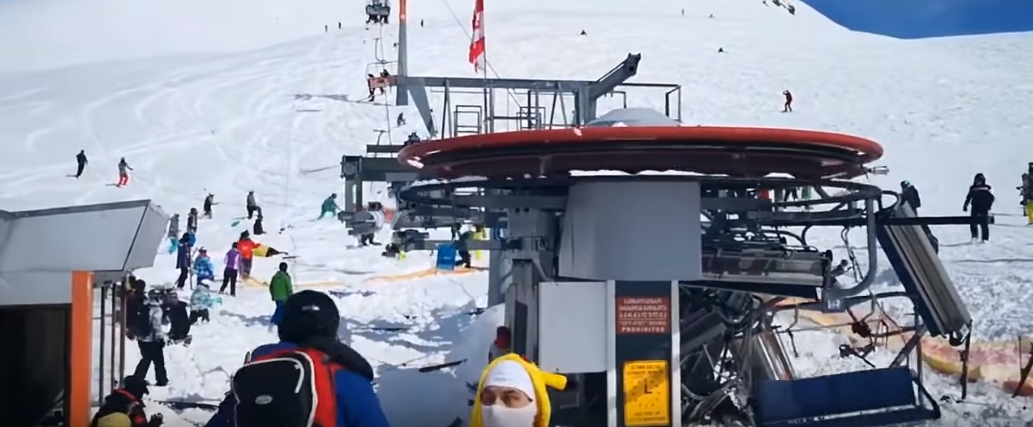 In a beyond horrifying accident, a chairlift went out of control at a ski resort, leaving two people seriously injured – including a pregnant woman.
The accident happened by the lift suddenly retreating backward at high speed, leaving the passengers unable to get off safely.
The victims were sent flying at the bottom at the Gudauri ski resort in the Caucasus Mountains, Georgia. People on the slope and near the end of the lift, who witnessed the accident, were heard shouting 'jump jump' at the people in the chairs to warn them, and in a bid to prevent them from being flung by the chair.
The video of the accident was recorded by onlookers and uploaded online. While some people questioned the authenticity of the accident, certain ones commented about their speculations regarding the victims that were able to survive at all.
Certain 'experts' even commented that 'Russian hackers' are behind the accident, as multiple chairlifts are seeing backtracking and smashing into the rotating machine that controls the entire carriage.
The chairlifts kept piling atop each other, breaking and sending its passengers flying into the air. Luckily a few people who probably paid heed to the warnings of the onlookers made a jump off the lift before it managed to spin and crash against the damaged pile of chairlifts.
A man in a red coat is seeing to have suffered the worst fate of all – as he sticks to the lift despite multiple warnings, until the lift crashes against the pile with him, and he isn't seen in the video thereafter.
While eight people suffered minor injuries, two were seriously hurt. Health minister David Sergeenko assured that three out of those had been discharged.
"Among the injured are citizens of Sweden and Ukraine," he said. "Only two cases need to be observed. One of the injured, a citizen of Ukraine, has broken a hand during the incident, and has a light injury on the head, while another, a citizen of Sweden, is pregnant and feels pain in the waist."
The reason behind the lift going backwards at double speed or why at all it started going opposite the direction it was supposed to go is yet unknown, but investigation is now underway. The injured were taken to Tblisi for medical treatment at a hospital.