HBO's most anticipated fantasy drama Game of Thrones will return on the night of Sunday, July 30, with its third episode of its seventh season. And, we already have seen the exclusive pictures and trailer from the upcoming episode titled The Queen's Justice.
Also read: Game of Thrones season 7 episode 3: Cersei's gift REVEALED
So, after waiting for a long time, Jon Snow (Kit Harrington) will finally meet his rumoured aunt Daenerys Targaryen (Emilia Clarke) as summoned by the mother of Dragons. But, here is the much-anticipated question — Will he bend the knee? In the trailer, Jon Snow is seen arriving Dragonstone along with Ser Davos and then entering the Targaryen throne room. Although Jon and Dany have not been captured in the same frame yet.
Apart from that, the second trailer for the Game of Thrones season 7 gives us the glimpse of Greyworm attacking the Casterly Rock along with his troops of the army. But what will be the outcome of the battle? Would the Lannisters be able to hold their seat at Casterly Rock or the Unsullied will win the battle? Or, will Greyworm die in it?
On the other side, following a blood-drenched sea battle, it's Euron's time to present Queen Cersei the most valuable gift — Ellaria Sand (Indira Varma) who poisoned Cersei's daughter, Myrcella. But despite all these, will Cersei agree to give her hand in marriage with the mad pirate king? If not, Cersei might offer him a position in King's Landing.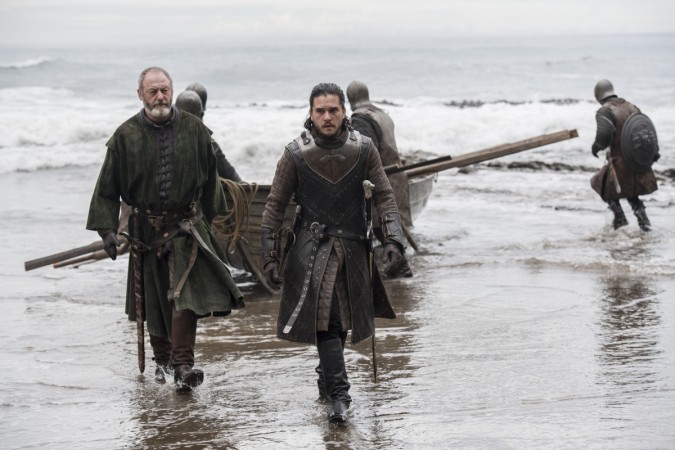 Meanwhile, Arya Stark might be able to reunite with her sister Sansa Stark as we had seen her heading to North in the previous episode. But what will happen to Theon or Yara Greyjoy? To know more, you have to stay tuned to HBO on Sunday night.
Watch the Game of Thrones season 7 episode 3 trailer below.
Game of Thrones season 7 episode 3 titled The Queen's Justice will be aired July 30 on HBO and HBO Canada at 9 pm ET. Indian viewers can watch it on Hotstar on Monday (July 31) at 7.30 am IST. Apart from that, one can watch it on HBO Now, Hulu, Sling TV live online.