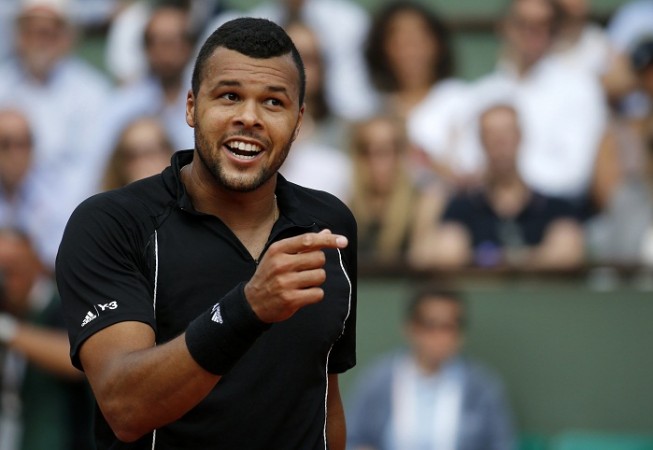 Jo-Wilfried Tsonga vs Stanislas Wawrinka – a French Open semifinal between two well-loved players, but come gametime on Friday at the Philippe Chatrier, one player will definitely feel the love more than the other, and that could, in the end, prove to be the difference between failure and a place in the Roland Garros men's singles final against either Novak Djokovic or Andy Murray.
Tsonga has ridden the wave of support in exemplary fashion so far, getting that extra bit of energy and using to such an effect that he is the only Frenchman in the final four in Paris.
It was the crowd that pushed Tsonga to victory in the quarterfinal over Kei Nishikori, who looked like he was coming back from two sets down to pull off a massive win. Such was Tsonga's feelings after the draining, exciting and cannot-take-your-eyes-off-it victory over Nishikori that after picking up the winning point, the 30-year-old wrote "ROLAND JE T'AIME" on the clay, which in English means "Roland, I Love You."
The support will play a big factor in this semifinal as well against Wawrinka, because there will be moments in the match when the Swiss will be on top.
After all, Wawrinka is coming off a terrific win over Roger Federer in the quarterfinals, where the lesser-heralded Swiss was far and away the better player. Federer had no answer to Wawrinka's game in that quarterfinal, and if the 2014 Australian Open champ produces a similar display again, then Tsonga could be in trouble, even if he will have the vast majority of the crowd supporting him.
"When I played Simon, I got booed," Wawrinka said. "It doesn't really affect me. I don't have any problem. I don't think you can change the results. I don't think [the crowd support] is what's going to make me win or [Tsonga] win."
Even if he says that, Wawrinka knows this big match will be about which player holds his nerve better and also plays those smattering of big points well. "It's going to be an exciting match, for sure," Wawrinka added. "Jo is a really strong player.
"He's been struggling a little bit since Toronto last year with injury, but in the French Open, in a Grand Slam, he's always there, always playing really well. He already played a semifinal here a few years ago."
However, reaching the semifinals is not enough for Tsonga, who has done that six times already. Since losing in the final to Novak Djokovic in the 2008 Australian Open, Tsonga has come close, but not close enough, to get that Grand Slam title, and the Frenchman will look to Wawrinka's run in the 2014 Australian Open as inspiration.
"You're going to be praised when you reach semis at Roland Garros as if you had already won the tournament," Tsonga said. "Whereas, in fact, to me it's not ended yet.
"Therefore, since the most recent episodes, I try and take a lot of distance and not to pay too much attention to all these articles. What I do is for myself. It is my own dream."
Where to Watch Live
Get the Report HERE
Tsonga vs Wawrinka is scheduled for a 1 pm CET (4.30 pm IST, 12 pm BST, 7 am ET) start. Live coverage of the semifinal in India will be on Neo Sports and Neo Prime.
Viewers in the US can watch the big match live on NBC Sports and ESPN, with live stream options on NBC Live Extra and Watch ESPN.
Audience in the UK can watch Wawrinka vs Tsonga live on ITV or ITV Player, while viewers from rest of Europe can do the same on Eurosport and Eurosport Player.
Fox Sports and Foxtel Play are the channel and online options for audience in Australia. Listeners across the world can also catch to the semifinal match live on Roland Garros Radio.