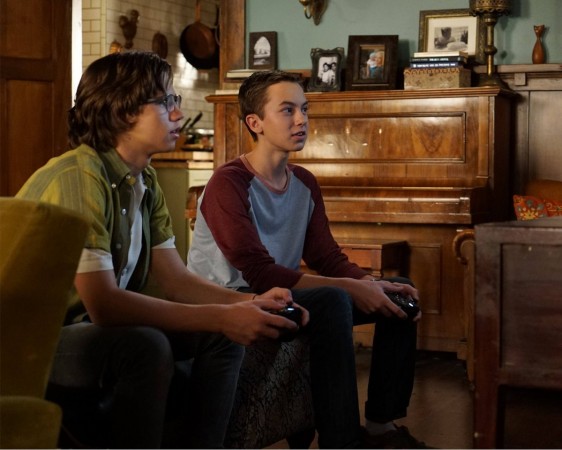 "The Fosters" Season 3B has been dominated by Callie (Maia Mitchell) and Brandon's (David Lambert) storyline, but it may take a backseat with all the new developments happening with the rest of the main characters. In the upcoming Season 3 Episode 13, titled "If and When", Jude (Hayden Byerly), who has been terribly missing his boyfriend Connor (Gavin MacIntosh), will make a new friend in Jack (Tanner Buchanan).
As fans of the show know, Callie and Brandon are trying as hard as they can to move on from each other, and are looking for distractions to do so. Brandon hopes to immerse himself in music and decides to make a rock musical version of "Romeo & Juliet" for his thesis project with the help of his friend Mat (Jordan Rodrigues).
Mat is also playing the lead role of Romeo, and while they hold auditions for the role of Juliet, the two friends have their first creative difference. Brandon's sister and Mat's ex-girlfriend Mariana (Cierra Ramirez) wants to audition for the role, and it looks like Mat is not happy about it.
In the promo for "If and When", Mariana is seen telling Mat she will understand if he does not want her to do the role and Mat replies he doesn't. Although it seems like there would be some bumps along the road, the short-term goal of this storyline may be to unite the former lovers in the romantic setting of "Romeo and Juliet".
Also Read: Vince Gilligan says 'Walt's Alive' in 'exclusive interview'?
Meanwhile, Callie focuses on doing what she can to improve the foster care system in the US. During this voluntary work, she and Jude meet quirky foster teen Jack. However, she does not expect her younger brother to become close friends with the boy.
Jude has been missing Connor ever since he moved away to be with his mother, and moreover, Connor was not only Jude's boyfriend, but they were also best friends. Possibly to fill a little bit of the void Connor left, Jude may be looking towards Jack. Although fans want Jude to be happy, they are also praying something more than friendship may develop between the boys.
Meanwhile, a sneak peek for "If and When" reveals Stef (Teri Polo) and Mike (Danny Nucci) think AJ's (Tom Williamson) older brother Ty (Chris Warren) may be the one that hit the twins. It is also understood that Jesus (Noah Centineo) will start looking for his and Marianas' birth father.
Watch Season 3 Episode 13 of "The Fosters" at 8 pm (EST) on Monday, 8 February. You can also live-stream "If and When" via Freeform Go Live and Hulu.