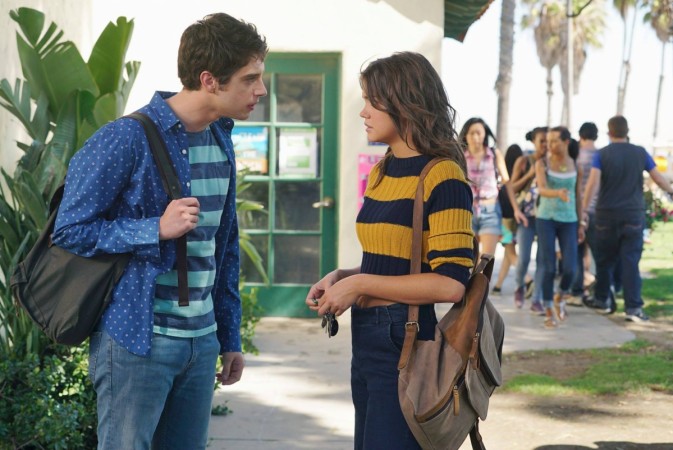 "The Fosters" Season 3B may be focusing on way too many storylines, but there is one that stands out for most fans – the toxic love story between legal siblings Callie (Maia Mitchell) and Brandon (David Lambert). As of the mid-season premiere episode titled "First Impressions", the duo is still fighting about the huge secret that they share.
For a change, however, Callie and Brandon seem to be moving forward from the toxic relationship and exploring new things that would keep them distracted from each other. Callie has now become a spokesperson for foster kids all over America, but she is still plagued by the fact that she slept with Brandon right before her adoption hearing.
Meanwhile, Brandon pushes her to move on and embrace the spotlight that she is getting. While Callie focuses on her "Fost and Found" initiative, Brandon focuses on producing a musical version of "Romeo & Juliet" for his school. It also seems like he will find distraction in a new girl in the upcoming Season 3 Episode 12 "Mixed Messages".
Also Read: Emma saves Neal from Underworld in 'Once Upon a Time' Season 5 Episode 12
In the promo for the episode, Brandon is seen sharing a moment with a surfer chick, who tells him, "I could teach you if you want". It looks like there might be a new love story brewing in the beaches of San Diego. However, the big question is, will Brandon and Callie be able to watch each other with other people?
It might take some getting used to for the both of them, although Callie still has some romantic tension with AJ (Tom Williamson) which is yet to be explored. Towards the end of the promo for "Mixed Messages", Brandon is seen telling Callie, "I think you are just afraid. And you are holding me back too".
Could Brandon be talking about their romantic lives and that Callie is not allowing him to move on? Or is he still talking about their big secret and that Callie is still unnecessarily holding on to the guilt, which, if she let go, they could both have happy futures?
Find out when Season 3 Episode 12 of "The Fosters" airs at 8 pm (EST) on Freeform. You can also live-stream "Mixed Messages" via Freeform Go Live and Hulu.