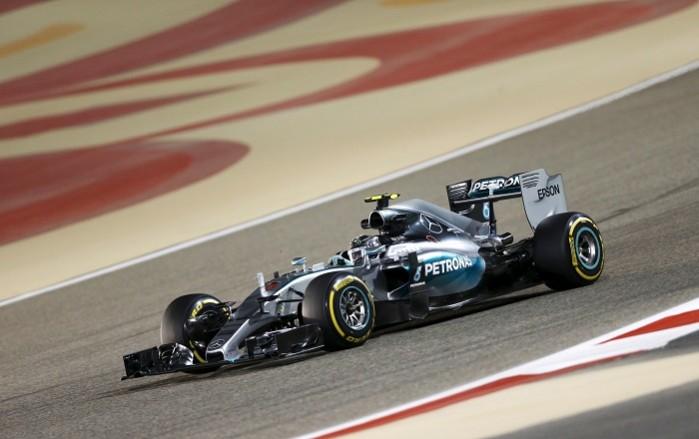 Mercedes duo Nico Rosberg and Lewis Hamilton will be hoping to keep their differences aside after their feud in Shanghai as they again look to dominate proceeding in the qualifying sessions in the Bahrain Grand Prix.
Although Rosberg and Hamilton finished in the 15th and 16th position in FP1 due to them focusing on longer runs in the first session, they reclaimed their top spot in the FP2 as Rosberg was able to beat Hamilton by 0.115s to set up the fastest time of 1:34.647.
As the qualifying and the main race will be taking place at night under the floodlights, not much importance will be given to FP1 and FP3 as both these sessions are during the day, where the temperatures are around 20 degrees higher.
Ferrari pair Kimi Raikkonen (1:35.174) and Sebastian Vettel (1:35.277) finished behind Mercedes in third and fourth place respectively in FP2 after claiming the first two spots in FP1
Williams' driver Valtteri Bottas finished in 5th position with a time of 1:35.280 in FP2 after claiming the third position in the first session.
Red Bull's Daniel Ricciardo (1:35.449) finished in the sixth position in FP2 followed by Lotus' Pastor Maldonado (1:35.474), Sauber's Felipe Nasr (1:35.793) and his teammate Daniil Kvyat (1:35.883).
Williams' Felipe Massa was not very impressive in FP2 as he finished in 10th place above the likes of Sauber's Marcus Ericsson, McLaren's Fernando Alonso and Lotus' Romain Grosjean.
Rosberg despite admitting that FP1 was "useless" for Mercedes, says he is satisfied by their performance in the second session, which according to him was very valuable."
"It was a good day today. The afternoon session wasn't very useful as the conditions are so hot and really quite different to what we see in the evening - which is of course when qualifying and the race will be held," the German told Formula 1 official website.
"That makes the second session very valuable and we learned a lot - for example that Ferrari are very good on the long runs."
However, he admits that Ferrari are still a threat even though Mercedes have done better in qualifying this season.
"On qualifying laps we look quicker but on race pace they [Ferrari] are really strong so we will have to do a lot of work tonight to find the perfect setup."
Hamilton despite feeling that Bahrain will not be as tough as Malaysia in terms of tyre degradation and they are in a much better position at this stage than they were at Sepang, also still admits that Ferrari will be a threat this weekend.
"From what I can see it shouldn't be as tough as it was in Malaysia from a tyre perspective and we're definitely in a better position this weekend than at the same stage in Sepang," the Briton told F1's official website.
"Despite that, I'm sure it will still be very close with Ferrari, who look very good on the long runs. Generally, though, it's been a positive start."
Meanwhile, Ferrari's Raikkonen says that it's still very early to predict whether his team will be able to challenge Mercedes this weekend.
"I don't know if we can challenge Mercedes, tomorrow is another day, conditions can change and this plays a big part, so let's wait and see."
Qualifying Timings: 6 pm - 7 pm local time, 8:30 pm – 9:30 pm IST, 4 pm - 5 pm BST
| | |
| --- | --- |
| Country | TV Broadcaster |
| India | Star Sports 4, Star Sports HD 4 |
| US | NBC |
| Canada | TSN 2 |
| United Kingdom | Sky Sports F1, Sky Sports F1 HD |
| Middle East and North Africa | Bein Sports Arabia |
| Germany, Italy | Sky Sport |
| France | Canal+ |
| Asia | Fox Sports |