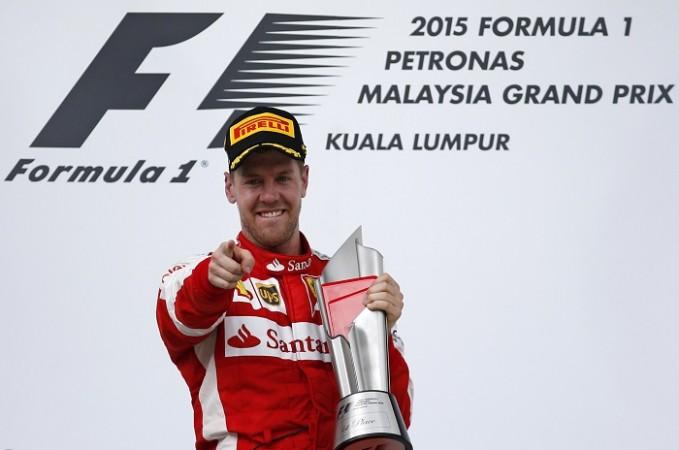 After Mercedes bagged the first and second positions in the first Formula one race of the season in Australia, reports had suggested that their team - comprising of Nico Rosberg and Lewis Hamilton - would dominate the season. But they were proven wrong when Ferrari's Sebastian Vettel clinched the Malaysian Grand prix, even though Lewis Hamilton was an overall favourite. This win might have alerted the Mercedes driver about the tough season ahead.
Despite Hamilton finishing second in the podium, he stands atop in the drivers' standings and is also one of the favourites to lift the driver's title.
Both the Ferrari drivers, Sebastian Vettel and Kimi Raikkonen, were in an amazing form during the Malaysian Grand Prix and their pace was what surprised Hamilton, who did not expect them to be so quick.
"We have to give it to them, they did a fantastic job," Hamilton said, Yahoo Sport reports. "We were not, and I was not, expecting them to be as quick as they were. They did an amazing job and had some good pace."
"We knew that they had made a step, we didn't know how big but they were too fast for us."
Even Raikonnen looked superb as he finished the race in the fourth position. This is a huge victory for Ferrari, who had finished an unimpressive fourth in the 2014 constructors' standings table. If their drivers put up such consistent performance over the course of the season, Mercedes might be in a spot of bother.
"Ferrari have made a huge step," said Hamilton. "It's great to see Ferrari making such a big step and it is with both the car and the engine. A lot of people talk about engines being fast but ultimately it's the car and the downforce which can make just as big a difference."
But, Ferrari would be eager to come up with such performance and increase their chances of winning the constructors' title as well. Their next pit stop is China, with the race on 12 April.
The entire Ferrari unit would be focussed on doing well in the Chinese Grand Prix, as they would not want the Malaysian Grand Prix victory to be their only success story of the season.