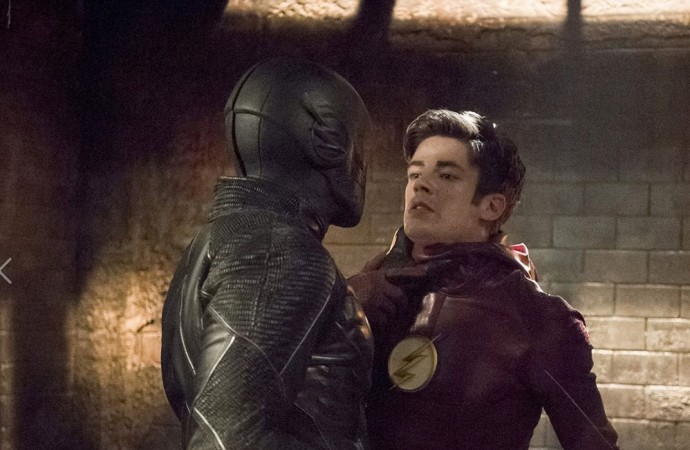 Superheroing is going to be a lot harder for Barry (Grant Gustin) now that Zoom (Teddy Sears) has stolen all his speed. However, that will not stop him from trying to take down the villainous speedster of Earth-2 in "Back to Normal," which marks Season 2 episode 19 of "The Flash."
In the episode, Barry is surely devastated that he has no supernatural powers and wonders how long it will take the rest of the bad guys to realise that he is just an ordinary guy. Meanwhile, the knowledge that Caitlin (Danielle Panabaker) has been imprisoned by Zoom haunts him.
Meanwhile, a new meta-human by the name of Griffin Grey (Haig Sutherland) makes his presence felt in Central City. He has super strength and demands a cure from Dr Wells (Ton Cavanagh), whom he blames for his anomaly. However, believing the Wells of Earth-2 to be the one responsible for the particle accelerator accident in Earth-1, he kidnaps the scientist.
Ever the street-smart Cisco (Carlos Valdes) devises a way for Barry to get his speed back. In the promo, the brilliant engineer informs Barry that he can absorb one of Grey's punches, which in turn will hopefully give him a little speed. However, any more than one punch and Barry becomes a "human piñata," according to Cisco.
Also Read: When will "Gotham" Season 2 episode 19 "Azrael" air?
Team Flash, down by two men as they may be, will defeat this meta-human with the help of an equally brilliant, but younger Wells – Jesse Quick (Violett Beane).
Meanwhile, Wally (Keiynan Lonsdale) starts questioning Joe (Jesse L Martin) regarding the Flash and his identity. After all, the scarlet speedster saved his from Zoom in "Versus Zoom."
Just a couple of episodes later, fans can also see the much-awaited episode that Kevin Smith is directing. The episode, titled "The Runaway Dinosaur," will see Team Flash facing off with an old enemy, Girder (Greg Finley). Here is the official synopsis for Season 2 episode 21 of "The Flash:"
With Barry (Grant Gustin) gone, the team must figure out a way to handle the return of an old enemy -- Girder (guest star Greg Finley). Realizing Girder is retracing his steps from his last attack, Iris (Candice Patton) volunteers to act as bait to trap him in S.T.A.R. Labs. Meanwhile, Barry fights to return to his old life. Kevin Smith directed the episode written by Zack Stentz