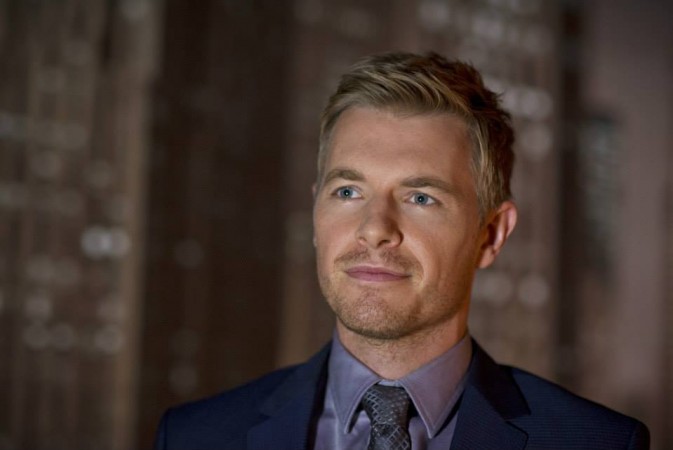 Barry (Grant Gustin) will make yet another time travel in "The Flash" Season 2 by going back to the past in the upcoming "Flash Back." It will be a special episode as it will mark the return of Eddie (Rick Cosnett) and evil Dr. Wells aka Eobard Thawne (Tom Cavanagh).
As fans know, Barry has decided to return to Earth-2 and defeat Zoom (Teddy Sears), and for that he will travel back in time to meet his arch nemesis before Zoom, Dr Wells/Thawne. He decides to pretend as the version of Barry from Season 1 and trick Wells into teaching him how to run faster.
Barry also runs into his old friend Eddie, who is alive and dating Iris (Candice Patton) in that time period. However, things don't exactly look peachy for Barry, who seems to be getting a beating from the Flash of Season 1.
Meanwhile, an old foe, Hartley Rathaway aka Pied Piper (Andy Mientus), still works at STAR Labs. In this reality, it looks like Hartley is on good terms with the people at STAR Labs. He is in the labs with them and seems impressed and shocked by metahumans, meaning he is not one himself.
Also Read: Cobblepot tempted to go back to his old ways by new family?
Fans will remember Pied Piper as the scientist at Star Labs who was fired by Harrison Wells for trying to stop the activation of the Particle accelerator. He then became a vengeful metahuman, leading the gang to lock him up inside the STAR Labs cell. However, during the search for Ronnie, (Robbie Amell) he escaped.
It also seems like Wells will figure out who he is. "Who are you? I mean, who are you really?" he asks Barry in the promo for Season 2 episode 17. When Barry tries to convince Wells oh his identity, Wells responds with, "No. Youre from the future."
The one good thing that seems to have some out of Barry's time travel is Iris getting closure from the past, allowing her to move on in the future. The episode may also set the stage for "The Flash"/"Supergirl" crossover, which was aired Monday, March 28, as "Supergirl" episode 18 titled "Worlds Finest."
Watch Season 2 episode 17 of "The Flash" at 8 p.m. (EST) Tuesday, March 29. You can also live-stream "Flash Back" via CWINGO and The CW Seed.