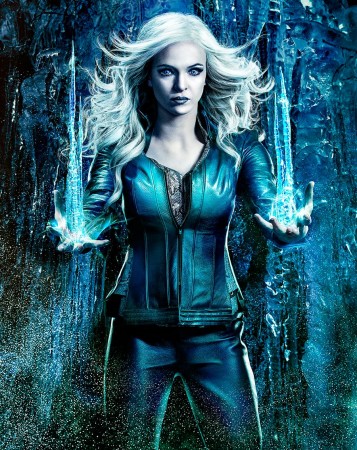 After teasing "The Flash" fans for half a season with a whole another world called Earth-2, Barry (Grant Gustin) and Cisco (Carlos Valdes) travelled to Dr Harrison Wells' (Tom Cavanagh) planet in the previously aired Season 2 Episode 13 "Welcome to Earth-2". Having travelled through the breach to fight Zoom with no real plan, Barry got imprisoned by the villainous speedster, and in the upcoming Season 2 Episode 14 "Escape from Earth-2", will attempt to do what the title suggests.
In the previous episode, Barry and Cisco ran into Earth-2 doppelgangers of many friends and foes, including Deadshot (Michael Rowe), Caityln (Danielle Panabaker), who is Killer Frost in Earth-2, Ronnie (Robbie Amell), who is Deathstorm in Earth -2, and Iris (Candice Patton). The duo ran into their own Earth-2 versions as well, and Cisco was deeply disappointed on learning that he is a villain called Reverb in that world.
Barry of Earth-2 is a smart forensic scientist who has not been affected by the particle accelerator, and hence is not a speedster. However, he has something Barry of Earth-1 has wanted his entire life — Iris' love. In Earth-2, however, Joe (Jesse L Martin) is a musician and dislikes Barry vehemently, unlike Iris' Earth-1 dad.
Also Read: Deathstroke and other 'Arrowverse' characters killed by 'Suicide Squad' movie
Although the travel to Earth-2 lands Barry in a lot of trouble, it may lead to something spectacular in future. His marriage to Iris in that world proves he and Iris will always have a connection no matter what earth they are in.
In an interview with TV Line, Patton said this revelation would plant a seed in Iris' head. "This idea that they are married on Earth-2 and supposedly married in the future makes Iris start to wonder if maybe they are truly destined to be together," she said.
In Season 1, Wells' AI Gideon had shown Barry an article written by Iris from the future, and her byline read Iris Allen-West, suggesting they are married in the future.
It is understood that "Escape From Earth-2" may also finally reveal the identity of Zoom. In a promo clip from the upcoming episode, Zoom is raising his arm as if to remove the mask.
Watch Season 2 Episode 14 of "The Flash" at 8 p.m. (EST) on Tuesday, Feb. 16, 2016. You can also live-stream "Escape From Earth-1" via CWINGO and The CW Seed.