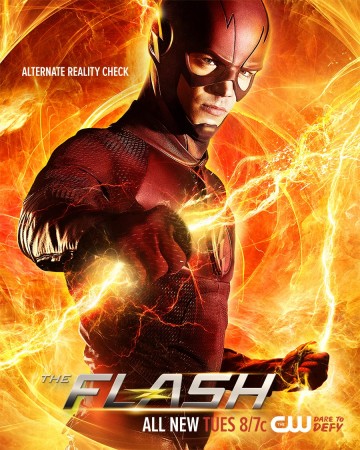 "The Flash" Season 2 Episode 12 "Fast Lane" will see the arrival of DC villain Tar Pit in Central City. Meanwhile, Barry (Grant Gustin) will be seen trying to put his personal issues aside, and move on after saying goodbye to his girlfriend Patty (Shantel VanSanten) in the previous episode, titled "The Reverse-Flash Returns".
Dr Wells (Tom Cavanaugh) is still working for Zoom behind everyone's back, and in one of the promos for Season 2 Episode 12, he is seen literally bottling up a little bit of Barry's speed for the villain from Earth 2. And, it looks like Dr Wells' actions will cost Barry quite a bit.
In another promo, Barry is seen running towards Iris (Candice Patton) as a piece of glass flies towards her chest. However, in a screenshot she is seen bleeding from the hit as Barry reaches just in time to hold her. Clearly, he was too slow to catch the sharp object before it hit her, and his voice-over is heard saying, "I was not fast enough".
Also Read: Clayface and Mad Hatter join Mr Freeze, Fish Mooney in 'Gotham' Season 2B
It remains to be seen if Iris is fatally injured and if it will force Barry to travel back in time yet again to ensure that his childhood sweetheart is alive.
The upcoming episode will also see the debut of Tar Pit (Marco Grazzini), whose superpower is instantaneously turning into liquid asphalt. According to the comic books, Tar Pit is actually Joey Monteleone, whose comatose body is in the Iron Heights prison, while his molten form escaped and started wrecking havoc in The Flash's city.
Watch Season 2 Episode 12 of "The Flash" at 8 pm (EST) on Tuesday, 2 February. You can also live stream "Fast Lane" via The CW website: