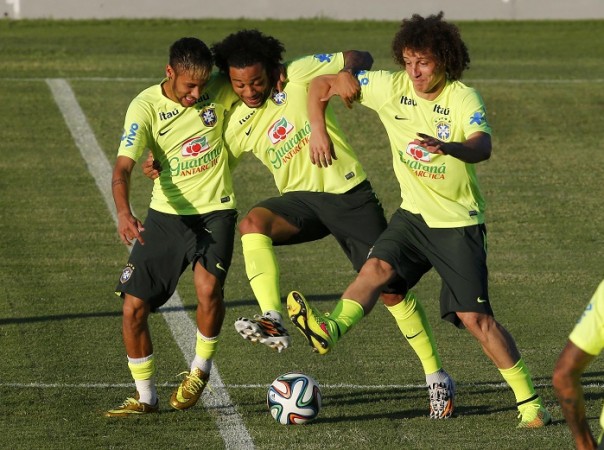 Brazil face their fifth of seven steps towards dreamland when they take on a Colombia side in stunning form in the quarterfinals of the FIFA World Cup 2014, a fifth step they cannot afford to trip on, and a fifth step they absolutely need to walk past as smoothly as possible.
Where to Watch Live
Get the report HERE

The quarterfinal is set for live telecast on Sony Six and Sony Six HD in India with the match beginning at 5 pm local time (1.30 am IST, 9 pm BST, 4 pm ET). The game can also be watched via live streaming online in India HERE. Catch the action in Brazil by live streaming HERE, while Colombia and rest of South America viewers can do the same HERE. Viewers in the US can catch the action on ESPN and ABC, with the option to live stream the game HERE or HERE. UK viewers can catch the action in BBC and ITV while the matches can also be live streamed HERE or HERE. Viewers in the Middle East and North Africa can live stream the match HERE. Catch the game in Australia HERE, while South Africa viewers can do so HERE.
The hosts have been far from their ruthless best at this most outstanding of World Cups, rather scraping through most of their games, and none more so than the round of 16 match against Chile, with the game against Colombia, the fellow South American side who have been on a roll in this tournament, in Fortaleza only expected to be more challenging.
Pressure is something that can weigh you down or make you play at your best and thrive on that feeling. So far, Brazil have been somewhere in the middle, with the pendulum swinging more towards the "weighing you down" side. Brazil came into this tournament in brilliant form, but with several questions about their ability, especially going forward.
The overreliance on Neymar was always going to be a concern, and there have been little signs to show that aspect can change over the first four matches of this World Cup. The 22-year-old has been the go-to guy and when Neymar doesn't play well, Brazil struggle to find goals.
Concerns over Brazil's chances against Colombia only increased when it was revealed Neymar was struggling with injury, but the forward himself insisted he is fit and raring to go for this most intriguing of quarterfinals, leading to a collective sigh of relief from an entire nation. "I am fine, you can relax," the forward said to a barrage of questions over his fitness.
However, apart from Neymar having to do pretty much all the work going forward, there have been quite a few concerns at the back as well. While it was clear this Brazil side under Luiz Felipe Scolari has nowhere near the kind of flair teams we have come to expect from this incredible country, the defensive aspect of the side was thought to be solid.
But on the evidence of the last couple of games, that part of the side also looks a little suspect. Apart from Thiago Silva, the other three of the back-four – Dani Alves, David Luiz and Marcelo -- are not natural defenders, while Brazil will be seriously hampered by the suspension to Luiz Gustavo.
"We gain experience as we go on," Scolari said after the penalty shootout win against Chile, a win which was far from impressive. "So let's see if we can make less mistakes in the next matches. If we make errors we provide chances for the opponent."
The increasing pressure also seems to be getting to Scolari, who lost his cool in the pre-match press conference when reporters asked him questions over Brazil using sports psychologist Regina Brandao, after a few of the players cried after that incredible win over Chile.
"You're wrong in these interpretations. For God's sake, please stop thinking that so and so goes there only for specific reasons. That's all wrong," Scolari barked. "It's all scheduled, organised. She will go there again Sunday or Monday. She has participated in a very cool way. It's a broad conversation, open, calm, together with the players."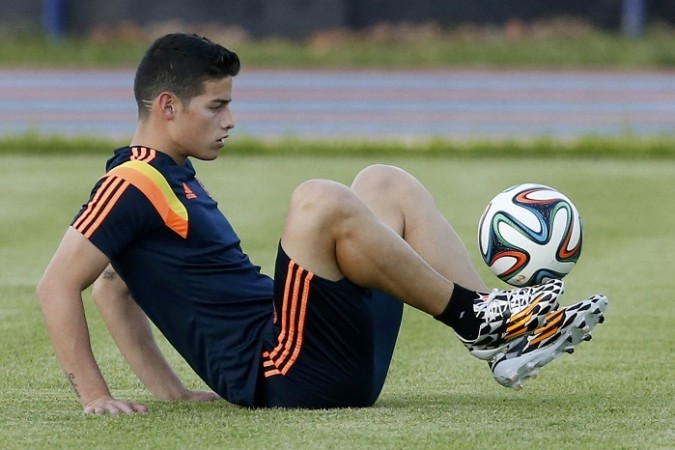 As Brazil struggle to cope with the pressure, Colombia are having the time of their lives in this tournament, playing some of the best football with James Rodriguez leading from the front.
Colombia's plan will be to do the exact same thing they have done over the last four games, play inventive, quick attacking football, by using their width and vision of Rodriguez. Brazil will have past history working for them, however, with the hosts losing just two of the previous 25 matches against Colombia, with the last defeat coming 23 years ago.
"The key is not think about past events," Colombia coach Jose Pekerman said. "We always try to look ahead. For Colombia each match is a new challenge and brings new, demanding opponents. We can't think about what happened in the past.
"It's natural that in the run-up to a match people draw on what's happened in the past and talk about the story of past World Cups. We can't ignore each team's past. Their histories, idiosyncrasies and traditions carry weight, but that's not to say that you're going to win just because of what happened in the past."
While Brazil vs Chile promised to be an open game, it was not as end-to-end as one might have thought it would be, with Chile sitting back for large periods in the first half while trying to spring on the counter. Colombia, though, are much more of a possession-based team, and the fact that they will try to be as proactive with the ball as possible, might just work in the home team's favour.
"For me what's good is a team that comes to play against us," Brazil skipper Silva said. "Technically, the Colombian team have those skills, and in theory that helps our team. It will be an open match."
Team news: Brazil: While Neymar has declared himself to be fit, Scolari will miss the services of Gustavo, who picked up a second yellow card of the tournament against Chile. Paulinho is expected to come in and slot in alongside the man he was replaced with – Fernandinho.
Colombia: Pekerman has no injury concerns, and the only likely change to the side that beat Uruguay in the last 16 could be Jackson Martinez, the extra striker, making way for a midfielder.
Key men: Brazil: Neymar has to shine, but so do the likes of Oscar and Hulk, who showed signs of improvement in the round of 16 match against Chile.
Colombia: Rodriguez has been arguably the best player in this tournament so far with five goals, including that magical striker against Uruguay. The No.10 will want to impress again, and so will assist-king Juan Cuadrado.
Expected lineups: Brazil: Cesar; Alves, Silva, Luiz, Marcelo; Paulinho, Fernandinho; Hulk, Neymar, Oscar; Fred.
Colombia: Ospina; Zuniga, Zapata, Yepes, Armero; Aguilar, Sanchez; Cuadrado, Rodriguez, Ibarbo; Gutierrez.
Prediction: 2-1 to Brazil